The Personal Impact of Scholarship: SPAA Student (BA'18) Mohamed Abdelghany's Story
Media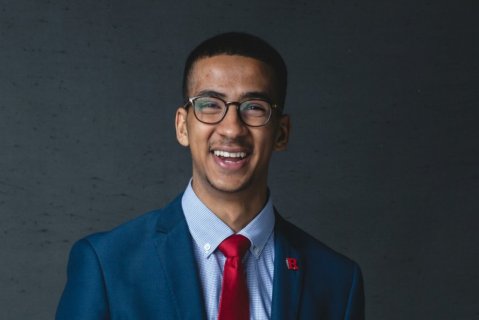 My journey to Rutgers University–Newark was two years in the making. When a broken leg derailed my plans to attend college on a full athletic scholarship, and no "plan B" to afford higher education, I was forced to assess what I wanted for my future.
So I refocused my goals. I graduated from Passaic County Community College and earned a full scholarship to Rutgers–Newark as part of the Honors Living-Learning Community. Hard work and determination got me to Rutgers. But my success and achievements would not be possible without you.
Donors like you drive a rich learning environment. Classmates opened my eyes to different perspectives and my professors include legends like Junius Williams.
But I'm most grateful for the scholarships that allowed me to live on campus and fully immerse myself in student life. I became Rookie of the Year for the National Champion Policy Debate Team. I was able to enjoy the vibrant City of Newark. And I've had the honor of working on the Chancellor's Commission on Diversity and Transformation to leverage this diversity to improve curricula, community engagement, and campus life.
Thank you for supporting me, and students like me. For having faith in our potential. For helping me remain debt-free. Your generosity has opened doors.
Sincerely, 
Mohamed Abdelghany, SPAA '18
P.S. My bold goals are inspired entirely by the pool of alumni and classmates who every day break boundaries and smash stereotypes. Renew your support today to help carry this legacy.
---
During his time at SPAA, Mohamed has been a standout student in the Honors Living-Learning Community, a star on the debate team, and a member of the Chancellor's Commission on Diversity and Transformation. He was recently accepted into Harvard Law School.
Scholarships allow students like Mohamed to excel and pursue enriching academic and extracurricular opportunities without worrying about crushing debt and financial obstacles.