Alumni Isaiah Friday (BA'10, MPA'15) and Robert Friday (PhD'18) Create Family Legacy at SPAA
Media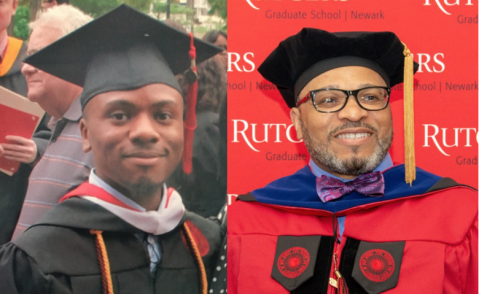 In May 2018, Robert Friday earned his PhD from Rutgers School of Public Affairs and Administration (SPAA), ending a pursuit that began in 2006 and cementing an educational legacy with his son, Isaiah Friday. 
In 2010, Isaiah became the first African-American student to graduate with a bachelor's degree from SPAA, where he also earned his MPA a few years later in 2015. 
Both men have acknowledged roadblocks in their journeys, but persisted with the support they have offered each other during their most difficult times. 
"There have been many times when he wanted to give up on his PhD and I would say, 'No, you have to keep going, you've made it this far,'" Isaiah said. "He also encouraged me to continue moving forward in my education."
Robert was the first to enroll in SPAA after deciding that a PhD in public administration would complement his position as a program specialist supervisor at New Jersey City University (NJCU) and a career devoted to working in urban school systems.
"Working with disadvantaged students was dear to me because of the struggle that I went through in the urban school system," Robert said. "I remember a teacher telling my mother that I would never go to college."
Robert, who earned three master's degrees prior to his doctorate, used that passion in selecting the topic for his dissertation, which examined performance measurement and management in Jersey City from the time the school district became controlled by the state to when the city eventually regained control of its school system.
Robert emphasized the importance of an education to Isaiah, whom he nudged to enroll at SPAA.
"He introduced me to the program, told me what kind of degrees they offered, and what I'd be able to do with that degree and I went ahead and did my own research," Isaiah said. "I really liked the mission of the school and its dedication to social activism and uplifting minorities."
As a student, Isaiah sought out new experiences and traveled to the Dominican Republic for a newly established program in which students built a house for a family in need.
Not long after earning his bachelor's degree, Isaiah began SPAA's MPA program with his father's support.
"After I got my bachelor's, I said 'Oh, I can't find a job, I'm just going to give up' and he said, 'No, go back for your master's because it's going to open up more opportunities for you," Isaiah said.
After completing the MPA program, Isaiah worked for the IRS and recently began a new job at Newark Beth Israel Medical Center as a remote monitoring aide responsible for observing patients to ensure their safety and care. Isaiah is working toward becoming a healthcare administrator and plans to continue his education by earning a JD or PhD.
While Isaiah plots out his next steps in education, Robert recently retired from his position at NJCU and is focusing on his work as a lieutenant in the Department of Public Safety at New York University. Along with his career in education, Robert previously worked for Rutgers' Department of Public Safety for 11 years.
Faculty and staff at SPAA fondly remember the Fridays' legacy and are invested in their continued success.
"There have been a few families who have come through SPAA and Robert and Isaiah are an example of a father and son whose mutual support for one another demonstrates why they persisted," said Sharon Stroye, director of public engagement at SPAA. "It is immensely gratifying to see them utilizing their education here and now they are both SPAA alumni who will continue to make us proud."