Rankings & Accreditations
Rutgers SPAA Rankings
Rutgers SPAA has one of the top programs in public affairs and administration in the United States and globally according to rankings released by U.S. News & World Report and others.
U.S. News & World Report
Out of nearly 300 schools nationwide, in the 2023 "Best Graduate School" rankings, U.S. News & World Report ranks Rutgers SPAA:
7th nationally in Urban Policy
13th nationally in Public Management and Leadership
15th nationally in Nonprofit Management
16th nationally in Public Finance and Budgeting
20th nationally in Local Government Management
29th nationally in Best Public Affairs Programs
Global Ranking of Academic Subjects (GRAS) by ShanghaiRanking
Rutgers School of Public Affairs and Administration is recognized as one of the world's leading research institutions in public administration in the Global Ranking of Academic Subjects (GRAS) compiled by the ShanghaiRanking Consultancy. The GRAS recognizes institutions that consistently produce a high volume of influential, high-quality research. Out of 200 institutions world-wide, in the 2022 GRAS, Rutgers SPAA ranks:
5th nationally and 10th globally in Public Administration
---
Rutgers SPAA Accreditations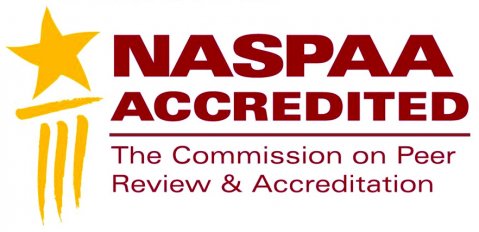 Network of Schools of Public Policy, Affairs, and Administration (NASPAA)
NASPAA accreditation "recognizes that a master's program in public affairs has gone through a rigorous process of voluntary peer review conducted by the Commission on Peer Review and Accreditation (COPRA), and has met NASPAA's Standards for Professional Master's Degree Programs in Public Affairs, Policy and Administration."
Rutgers SPAA's program first received NASPAA accreditation in 1989, and has successfully received reaccreditation every seven years since, in accordance with NASPAA guidlines.
NASPAA Annual Accreditation Data Reports which include graduation and employment rates are available from NASPAA: https://accreditation.naspaa.org/resources/data-on-accredited-programs/.