Charles E. Menifield Appointed Dean of Rutgers SPAA
Media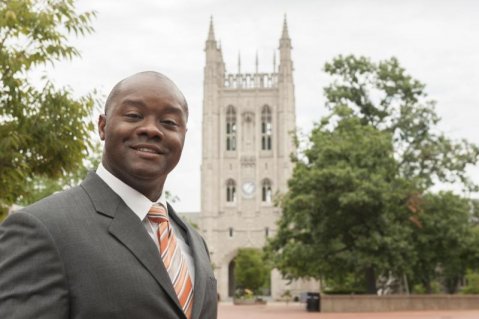 NEWARK, NJ — Rutgers University has announced the appointment of Charles E. Menifield as Dean of the School of Public Affairs and Administration (SPAA) at Rutgers University-Newark effective September 1, 2017. Dr. Menifield follows Professor Gregg G. Van Ryzin who has been serving as Interim Dean of SPAA since July 2016; University Professor Marc Holzer led as Founding Dean of the school from its establishment in 2006 to June 2016.
Dr. Menifield has a strong record of national leadership roles in public affairs and administration and is widely respected for his scholarship on budgeting and financial management, public health, welfare, and the participation of underrepresented groups in politics, noted a statement from Rutgers University–Newark Chancellor Nancy Cantor and Rutgers University–Newark Executive Vice Chancellor and Provost Jerome Williams. "Charles' scholarship and teaching are informed by substantial experience in the public sector and extensive research on the effectiveness of public policy on a range of issues affecting underserved communities," their statement continued.
Dr. Menifield will come to Rutgers SPAA from the University of Missouri – Columbia, where he has been Associate Dean for Academic Programs at the Harry S Truman School of Public Affairs since 2013 and Professor since 2012. Prior to that, he was at the University of Memphis for nine years where he was a Professor and Associate Professor and served as Director of the public and nonprofit administration program.
He has twice been a Visiting Scholar at the Congressional Budget Office in Washington, D.C., where he did extensive research on state implementation of the Children's Health Insurance Program (CHIP). Prior to working in Washington, he was an Associate Professor of political science and public administration at Mississippi State University and an Assistant Professor at Murray State University.
"I look forward to joining SPAA next fall to continue the legacy of Dean Holzer and to work together to embrace the school's mission to promote academic scholarship and expand the program's mission to include public engagement," said Dr. Menifield. "We will work diligently to assist Newark and other local communities in their efforts to solve problems and address issues that benefit our community while we continue to encourage and advance academic scholarship in the discipline."
Dr. Menifield's research interests lie primarily in the areas of budgeting and financial management, public health and welfare, and minority politics. Other areas include public management information systems, education finance, and public administration education. He has two books on minority politics and two books on public budgeting and financial management. His most recent articles have appeared in the Journal of Education Finance and Public Administration Quarterly. His current research examines the prevalence of obesity, infant mortality, and other health care factors on children.
His 2005 book, Politics in the New South: Representation of African Americans in Southern State Legislatures, edited with Stephen D. Shaffer, won the V.O. Key Award from the Southern Political Science Association for best book written on southern politics that year.
Dr. Menifield has served on the Executive Council of the Network of Schools of Public Policy, Affairs, and Administration (NASPAA), as President of the International Conference on Local Government, and on editorial boards including the Journal of Public Budgeting, Accounting and Financial Management; Journal of Health and Human Services Administration; and the Ralph Bunche Journal of Public Affairs. An award-winning teacher, he is a former Ronald E. McNair Scholar and in Spring 2016 won the Missouri University Faculty Achievement Award in Diversity.
He earned his PhD in political science (in the fields of American politics and public administration) at the University of Missouri – Columbia, and both his master's in public policy and administration and his bachelor's degree at Mississippi State University.
In their statement, Drs. Cantor and Williams also thanked Dr. Van Ryzin for his excellent leadership and collegiality as Interim Dean while continuing the school's upward trajectory initiated by Dr. Holzer.