Dean Charles Menifield and Assistant Professor of Practice Diane Hill Named to NJ's MLK Commemorative Commission
Media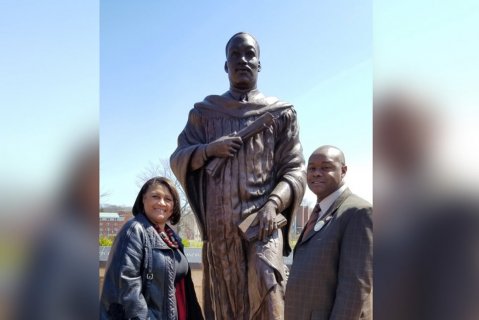 School of Public Affairs and Administration Dean Charles Menifield and SPAA Assistant Professor of Practice and Rutgers University–Newark Assistant Chancellor for University-Community Partnerships Diane Hill were among the 14 new members appointed by Gov. Phil Murphy to serve on the New Jersey Martin Luther King, Jr. Commemorative Commission.
"While Dr. Martin Luther King, Jr. was taken from us all too early, his legacy is alive and well in New Jersey," said Gov. Phil Murphy on April 4, 2019, the 51st anniversary of the death of Dr. King. "I am proud to announce 14 new members to our MLK Commission in order to ensure that his spirit lives on in New Jersey. By continuing to redress systemic inequality and poverty, increasing the minimum wage to $15 an hour, and providing an on-ramp to the middle class for all, we can honor the man who gave his life fighting for values that we too often take for granted."
The commissioners are charged with developing and advising the governor and the legislature of activities in honor of Martin Luther King, Jr.'s birthday; establishing programs designed to educate the public about Martin Luther King, Jr. and the civil rights movement; meeting with groups and organizations to coordinate events and seek volunteers who are willing to donate their talents; and receiving donations from individuals and public and private organizations to carry on the commission's mission and address the needs of Dr. King's living memorial, the Martin Luther King, Jr. Center for Nonviolent Social Change.
"Today more than ever, we are well aware that we must continue to address inequality, bigotry, and injustice. It is an honor to be invited by Gov. Murphy to have a seat at the table and help the state of New Jersey continue to effect positive change for its citizens," said Hill.
The new membership consists of leaders from faith and civil rights communities who represent New Jersey's spiritual, geographic, and racial diversity. In addition to Hill and Menifield, Gov. Murphy appointed the following individuals to serve on the MLK Commission: Public Member Al-Tariq Best of Newark; Public Member former Mayor of Westampton Carolyn Chang; Public Member Brenda Lee of Bloomfield; Public Member Willie Dwayne Francois III of Mays Landing; Public Member Quincy Bloxom of Burlington; Public Member the Rev. Timothy Levi Adkins-Jones of Newark; Public Member the Rev. Jack Johnson of Columbus; Public Member Bernadette Glover, D.Min., of Piscataway; Public Member Pastor Kenneth D.R. Clayton of Paterson; Public Member Imam Deen Shareef of Morris Plains; Public Member Andrea McChristian of Newark; and Public Member Jamie Bland of Paterson.
"I am excited to be a part of the commission honoring an American hero. Dr. King addressed issues that many people didn't want to talk about during his lifetime, and these conversations led to the passage of several laws that benefit me and many others like me. There is nothing more important than standing up for what you believe and advocating on behalf of those who don't have access to a space where their voice can be heard. I hope that the members of this commission view their role as one that is determined to bring about equity, diversity, and a more inclusive society," stated Menifield.