Dean Charles Menifield Updates SPAA Community During Virtual Town Hall
Media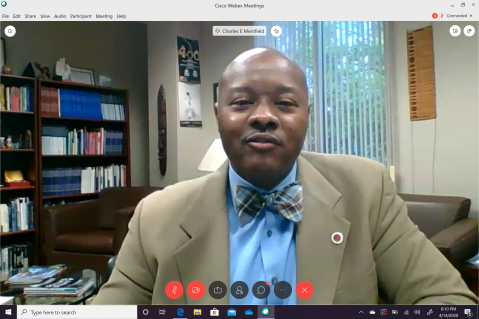 Combating the COVID-19 pandemic has required unprecedented changes: a move to 100% online instruction and extensive social distancing. SPAA hosted a Virtual Town Hall Meeting on Tuesday, April 14 to discuss how these changes have directly impacted the SPAA community. Members of the SPAA family – students, faculty, alumni, staff, and community partners – logged on to hear Dean Menifield provide updates about the plans and expected changes for Summer 2020. No decisions have been made on the medium of Fall 2020 course instruction, but going forward all SPAA courses will have an online component. Dean Menifield promised that although hard decisions were being made, in light of budget cuts, the goal was to ensure that students' ability to meet graduations requirements was not negatively impacted. He will continue to provide updates as they become available.
During the meeting, Dean Menifield emphasized that everyone is in this together. "SPAA is a family, we love all our family members, and we will do anything for them," said Menifield.
Later in the meeting, SGA representative Anna Agbotse provided information about the impact of online instruction on students and financial assistance options for students in need. Other members of the SPAA community also joined the discussion to share how they were personally coping with the changes, offer words of inspiration and thanks, or ask about support services.
In these uncertain and anxious times, the meeting provided a much-needed opportunity for members of the SPAA family to connect and exchange information and encouraging messages.
For more information and resources regarding COVID-19, visit http://spaa.newark.rutgers.edu/covid-19