Dr. Domonic Bearfield Named COPRA Chair for 2021-2022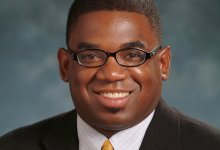 Dr. Domonic Bearfield, associate professor in the School of Public Affairs and Administration (SPAA) at Rutgers University–Newark, has been named the 2021-2022 chair of the Commission on Peer Review and Accreditation (COPRA), the accrediting body for the Network of Schools of Public Policy, Affairs, and Administration (NASPAA) which is recognized by the Council for Higher Education Accreditation (CHEA). As chair of COPRA and a key member of NASPAA leadership, Dr. Bearfield is responsible for setting the strategic direction of NASPAA accreditation and leading the fourteen-person board that is entrusted with the implementation and management of the accreditation process for over 200 master's degrees programs in public service across eight countries.
"It is an honor to serve as the COPRA chair for the 2021-2022 accreditation cycle," said Dr. Bearfield. "It is an inspiring time in public affairs education. I look forward to working with my fellow commissioners to assist our member programs through the accreditation process."
A well-known scholar of race, gender, and public sector personnel, Dr. Bearfield's work has appeared in many of the field's leading journals, and he has been recognized for his contributions to research and teaching. He is an editor at Public Administration Review. His co-authored article, "The Myth of Bureaucratic Neutrality: Institutionalized Inequity in Local Government Hiring," was named the 2020 Best Article by the Review of Public Personnel Administration. Dr. Bearfield was awarded the 2021 SPAA Faculty Service Award for outstanding service to SPAA's students, faculty, and the greater SPAA community.