Dr. Leonor Camarena Joins Rutgers SPAA Faculty as Assistant Professor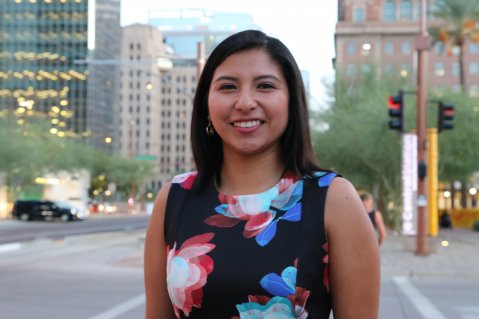 Dr. Leonor Camarena has joined the SPAA faculty as an assistant professor starting on Sept. 1, 2020. She comes to SPAA having completed her PhD from Arizona State University where her research explored issues involving women and diversity, as well as representation and leadership, in public and nonprofit organizations. She has also researched how technology is both effective and ineffective in organizational behavior components. Her work has appeared in peer-reviewed publications such as Review of Public Personnel Administration, Local Government Studies, and American Journal of Engineering Education.
Before academia, Dr. Camarena worked as a policy analyst at Chicanos Por La Causa, Inc., a 501(c)3 community development corporation in Arizona. The job gave her first-hand exposure to the local government-local community dynamic and highlighted some of the stark inequities existing in nonprofit organizations and local governments such as a clear disparity in the number of diverse individuals in management positions. Such observations pushed to pursue her doctorate and focus on issues of gender, leadership, representation, and diversity in organizations. Her dissertation, "Gendered Expectations: How Networks Shape Outcomes for STEM Faculty in Gendered Institutions," focused on women in STEM and in particular how STEM faculty choose to organize women in their networks to be successful in academia.
As a doctoral student, she worked as a project manager for the Center for Science, Technology, and Environmental Policy Studies (CSTEPS) at ASU working on initiatives such as the National Survey of Technology and Civic Participation in Local Governments. She also worked as an editorial assistant for one of the top peer-reviewed journals in public administration, the Journal of Public Administration Research and Theory (JPART).
In addition to her PhD, Dr. Camarena earned her Master of Public Administration degree and a Bachelor of Science in two fields, Public Service and Public Policy and Urban and Metropolitan Studies, from ASU.
Given the COVID-19 pandemic and the uncertainty surrounding building a connection and relationship with students, for Fall 2020 she purposefully decided to teach a synchronous undergraduate class, Public Service Organizations, to know her students better. "Since I am teaching for the first time at SPAA, it is prudent that students see me in real time so that we can connect better and have a much more engaged dialogue over the semester," said Dr. Camarena. "But I also want to ensure that the students' safety and mental health, level of education, and expectations are not compromised, so I am ready to provide as much support needed to my students." Even with remote learning, she hopes to maintain an open-door policy by encouraging students (BA, MPA, or PhD) to reach out to her with any academic or other questions.
"I am very excited to join the SPAA family. They are one of the most productive, welcoming, and inclusive environments I have seen, and I look forward to being part of it," she said. "I am also excited to grow intellectually from discussing varied topics and viewpoints with everyone."