SPAA MPA Alumna Elizabeth Abitanto Guides Students Through Academic Success
Media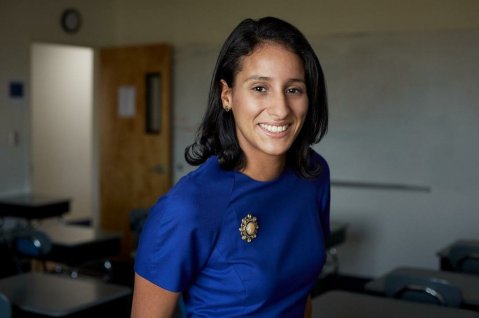 Elizabeth Abitanto's interest in educational equity started at a young age, stemming from a combination of being a Venezuelan immigrant born into a family of educators and growing up in Elizabeth, NJ, where opportunities and resources for first generation and low-income families were scarce.
"I was lucky enough to have a mother who was resourceful and cared deeply about my academic success," said Abitanto SASN'08, SPAA'10. "I have found that this is a privilege not afforded to many. My passion comes from understanding my privileges and my ability to help inform and support students and families just like mine." 
"My passion comes from understanding my privileges and my ability to help inform and support students and families just like mine." 
– Elizabeth Abitanto
Her current position at NJ LEEP (Law and Education Empowerment Project), a nonprofit college prep program established in partnership with Seton Hall Law, gives her the opportunity to feed this passion. As managing director of programs, she plays an active role in creating equity in higher education to ensure academic success for underserved students and their families in the greater Newark area.
"Our goal at NJ LEEP is to equip students with the skills, habits, and exposure necessary for college and life success," said Abitanto. "We do that by following our students from middle school to college and providing them rigorous programming to guide their academic and social-emotional success, providing them mentorship and early career experiences, and developing deep, meaningful relationships with their families." The hope is that their tenure with the organization allows them affordable college options, timely graduation, and rich career experiences and opportunities.
Abitanto started at NJ LEEP almost 10 years ago following the completion of her Master of Public Administration (MPA) degree from the School of Public Affairs and Administration at Rutgers University–Newark in 2010. She looked into starting a graduate program having earned her bachelor's degree in political science from the School of Arts and Sciences Newark and used the peak of the 2008 economic recession as an opportunity to delay jumping into the workforce and instead advance her education. Abitanto believed a master's degree, specifically the MPA, would help her hone in on what direction to take her career. It ended up doing just that – she learned the administration responsibilities of running a nonprofit organization, which lead her to earn a certificate in nonprofit management to complement what she says is a versatile degree in public administration.
"SPAA strengthened my understanding of the field and provided me with a network of professionals that I could tap into whenever I need support," she said.  
While earning her MPA, she worked as the annual events coordinator at Jersey Cares, a nonprofit that recruits and engages volunteers, as part of her AmeriCorps assignment. "A professor at SPAA introduced me to the opportunity and I am forever grateful," she said. "I got to apply all the skills and lessons I was being taught in class and was able to be a bigger asset to Jersey Cares." It was there that she got to understand the fundamentals and tenets of fund development and practice her nonprofit management skills. "I credit my time at Jersey Cares as pivotal and strongly encourage prospective nonprofit and public service professionals to consider taking a year to serve for programs like AmeriCorps, Peace Corps, Jesuit Volunteer Corps, Teach For America, or City Year," she said.
Pursuing her degrees at RU-N allowed her to stay connected to the strong network and foundation she had in the community and has inspired her to continue to serve within the city. She currently serves on the board of trustees at the Philips Academy Charter School, the board of directors at The Gem Project, a social justice program for youth, and as an at-large member for the Rutgers Alumni Leaders Council.
"Newark really has professionally shaped who I am today and I feel obliged to give back and serve a community who so humbly took me in during my undergraduate and graduate studies," said Abitanto. "My mom also attended Rutgers-Newark as an adult, so I've been coming to Newark to learn and grow for a very long time, whether it's attending an event at NJPAC or visiting new exhibits at the Newark Museum."
Abitanto has some simple yet effective advice to current students in order to be successful: "If you don't know, ask – there's so much to learn, so get answers, seek clarification, and develop strong help-seeking habits," she said. Abitanto also remembers her own realization while earning her degree – that it's possible to work in nonprofits and have a sustainable career. "Follow your passion and talents, and if you're good, the money will follow," she said.
Ultimately, Abitanto's passion is providing students with the resources she would have wanted to receive. "My ability to give my talents, knowledge, and time to families in need, and knowing that doing so can radically change their lives is what inspires me the most," she said.