Essex County Executive DiVincenzo Announces Results of County Health Assessment Survey Conducted with Assistance from Rutgers SPAA
Community responses help identify local health concerns and need for wellness programs
Media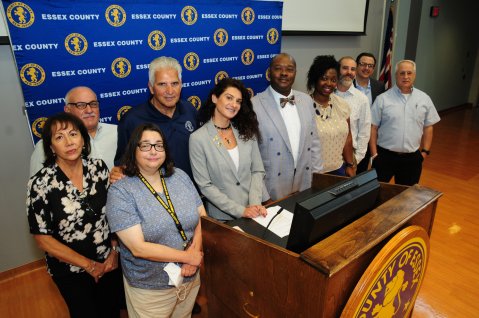 Cedar Grove, NJ – Essex County Executive Joseph N. DiVincenzo, Jr. announced the results of the recently completed Essex County Community Health Assessment Survey. Conducted from December 2021 to March 2022, the survey asked Essex County residents about the health issues and concerns they experience and obstacles they face in obtaining health care. The data collected will help the Essex County Office of Public Health Management and Essex County municipal health officers create programs and initiatives to raise awareness about and promote wellness. Essex County partnered with Rutgers University School of Public Affairs and Administration in Newark to conduct the study. This is the first Community Health Assessment conducted by Essex County since 2006.
"I want to thank all the residents who took the time to participate in the Community Health Assessment survey. Their responses helped to give us a snapshot of the health care issues facing our community and will enable our Public Health Office to be more proactive when planning for future emergencies and public health initiatives," DiVincenzo said.
"When the County Executive hired me in August 2019, his directive was to create a strong public health office that could be a resource for the residents and other municipalities in Essex County. Although our attention during the last two years has been on responding to COVID-19, the completion of the Community Health Assessment is a significant step toward understanding the health needs of our community," Essex County Office of Public Health Management Director Maya Lordo said.
"Rutgers School of Public Affairs and Administration was excited to be invited to work with the county and health department on this critical endeavor. The health of our community is very important and even more important during the COVID pandemic. This data is vital to creating good health policies to address needs and disparities in our county," said Charles E. Menifield, PhD, Professor and Dean Emeritus from Rutgers School of Public Affairs and Administration.
Residents who took the survey were asked a variety of general questions about their overall health, diet and exercise habits, access to affordable medical care and prescriptions, and if there are any barriers that they experience in obtaining health care. All responses were anonymous and confidential. The survey took about 15 minutes to complete.
The survey results were compiled into a 177-page document that can be accessed on the Essex County website at www.EssexCountyNJ.org/health. A sample of the results are as follows:
The leading health issues identified in the survey were:
Mental health issues (58.54 percent)
Aging issues such as Alzheimer's disease (43.43 percent)
Cancer (42.14 percent)
Obesity and overweight (40.08 percent)
Infectious diseases such as the flu (29.47 percent)
Heart disease (24.58 percent)
Diabetes (23.49 percent)
Factors contributing to a person's well being identified in the survey were:
Lack of exercise (61.47 percent)
Poor eating habits (55.32 percent)
Angry and violent behavior (37.59 percent)
Reckless driving (33.95 percent)
Not getting a routine check-up (28.90 percent)
Respondents also were asked about health insurance and obstacles they faced in obtaining health insurance. Responses were:
Can't afford health insurance (73.37 percent)
Do not know how to get health insurance (9.07 percent)
Don't need health insurance (2.51 percent)
Other (15.08 percent)
Data also was analyzed for each municipality, which will enable municipal health officers to view a snapshot of the well-being of their community.
A total of 21,000 surveys were initiated; 11,127 surveys were determined to be complete and were included in the survey study. Of the respondents, almost 72 percent were white and almost 15 percent were black.
Essex County promoted the survey at its three COVID-19 vaccination and testing locations in West Orange, Livingston and Newark, at its Division of Family Assistance and Benefits headquarters in Newark, on its website and social media, and through an email blast message to residents who had been vaccinated at an Essex County location or who signed up to receive Essex County updates.