'Experiential Philanthropy' Program at RU-N Empowers Students to Help Nonprofits
Media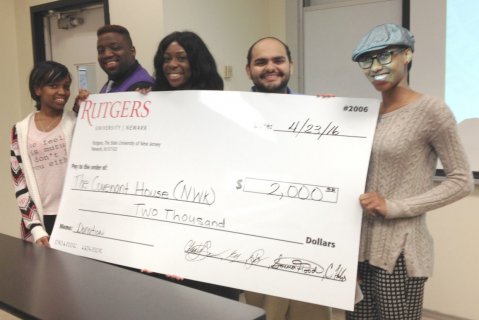 When Christopher Hercules's class was given the opportunity to award $2,000 to a deserving nonprofit, he advocated that Covenant House receive the donation.
Hercules invited his cousin, Jermaine Reid, to his class to share his experiences at Covenant House – a nonprofit that provides services to homeless teens. Reid told the students that he became homeless in his late teens when his aunt could no longer afford to care for him. It was at Covenant House where Reid slept and showered, received mentorship, and found assistance earning his GED certificate and renting his own apartment.
"Covenant House saved his life and allowed him to become the man that I know today," said Hercules, a 2016 alumnus from Rutgers University-Newark's School of Public Affairs and Administration (SPAA). 
Hercules's class was one of five undergraduate courses launched across Rutgers University-Newark this spring as pilots for an experiential philanthropy initiative under RU-N Chancellor Nancy Cantor's seed grant program. The $25,000 grant, "The University Classroom as a Philanthropic Learning Laboratory," is designed to teach students about nonprofits and philanthropy.
"We gave classes between two and four thousand dollars. As part of their coursework, the students learned about local nonprofit organizations, social issues, and how to be an educated donor," said Lindsey McDougle, an associate professor at Rutgers SPAA and the grant's principal investigator.
"The students then made a decision about how they wanted to distribute that money to the nonprofits," McDougle said. "Essentially, the students acted as funding agents on behalf of the community."
The initial grant awarded a total of $13,000 to nine local nonprofits, including Covenant House. Recently, McDougle received a second grant worth $50,000 to continue the program for the next three years.
After the semester, McDougle and her team evaluated student surveys and determined that there was a disconnect between students' desire to contribute to their communities and their capacity to do so as a result of insufficient time and resources.
McDougle said that experiential philanthropy aims to remedy that disconnect. She estimates that at the conclusion of the grant's term, between 900 and 1,200 students will have participated in an experiential philanthropy course. "In three years, a large percentage of RU-N students will not only be educated about the social issues facing the city of Newark but also about the nonprofit organizations working to mitigate those issues," McDougle said. 
The nonprofits eligible for awards included those that provide educational assistance, mental health services, housing, child protective services and artistic programs, to name a few.
"We were astonished by how much work the students did on their own, and really grateful, because we're a nonprofit and things are tight," said Polly Wardell, development associate for special projects at Covenant House.
Wardell said that the award from Hercules's class was put toward the organization's education department, which helps students like Reid earn their GED certificates.
"It's really people in the community and their support that keep our doors open to help more kids in the future," said Wardell.