Hudson County Community College and Rutgers SPAA Sign Transfer Agreement for Public and Nonprofit Administration Degree Program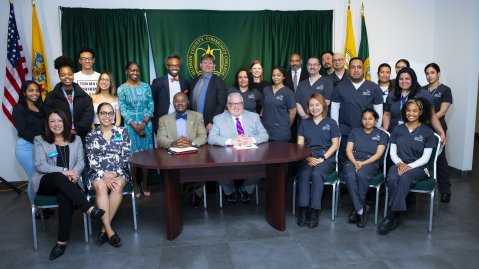 Hudson County Community College (HCCC) and Rutgers University School of Public Affairs and Administration (SPAA) have entered into an agreement that enables students who graduate from HCCC with an Associate of Science degree in Human Services to transfer seamlessly and attain their Bachelor of Arts degree from Rutgers SPAA. The agreement was signed by HCCC President, Dr. Christopher M. Reber; Rutgers University–Newark Provost and Executive Vice Chancellor, Dr. Ashwani Monga; HCCC Vice President of Academic Affairs, Dr. Darryl Jones; and Dean of Rutgers School of Public Affairs and Administration, Dr. Charles Menifield.
Students who earned their degree from HCCC within the last seven years may transfer up to 65 credits toward the Rutgers SPAA baccalaureate degree in Public and Nonprofit Administration. They will also have the option of entering the accelerated Master of Public Administration (MPA) program at Rutgers University.
"Public organizations and nonprofits represent the communities they serve and are critical in providing for the physical, educational, and socioeconomic needs of these communities," Dr. Reber said. "This agreement will prepare students for management and leadership careers in government and nonprofit sectors."
There are nearly 90,000 federal, state, and local government agencies in the United States that provide basic services directly to the public, and more than 1.5 million U.S. nonprofit and non-governmental organizations that focus primarily on social services. Career options include but are not limited to positions as Budget Analysts, Business Administrators, City/Town Managers, Compliance Officers, Community Engagement Directors, Educational Administrators, Emergency Management Directors, Nonprofit Executive Directors, Government Relations Specialists, Human Resources Managers, Labor Relations Specialists, Legislative Aides, Managing Directors, Medical and Health Services Managers, Policy Analysts, Public Affairs Directors, Social and Community Services Managers, and Urban and Regional Planners.
The School of Public Affairs and Administration at Rutgers University–Newark offers a full complement of degrees from undergraduate to PhD as well as graduate and non-credit certificates focused on issues of public and nonprofit sector management and policy implementation. Rutgers SPAA is accredited by the Network of Schools of Public Policy, Affairs, and Administration.
Complete information about the HCCC Associate in Science in Human Services degree may be obtained by contacting HCCC Enrollment Services at admissions@hccc.edu or texting 201-509-4222.