Carrying the Torch: Honoring the Legacy of Samuel Okparaeke (MPA'13)
The Samuel Okparaeke Scholarship Fund Will Empower Future Public Servants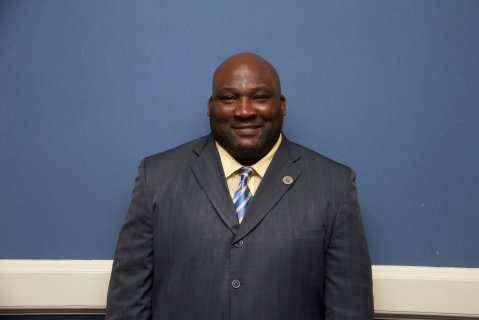 For Samuel Okparaeke, education wasn't simply a personal goal. It was part of a lifelong mission to uplift and empower his loved ones and community. A 2013 graduate of the master's program at Rutgers University–Newark's School of Public Affairs and Administration (SPAA) and a former career development teacher at Rutgers University–New Brunswick, Okparaeke dedicated the last 20 years of his life to public service in Essex County, New Jersey. On Christmas Eve 2020, Okparaeke passed away suddenly at the age of 51. In honor of his legacy, a group of fellow Rutgers alumni and friends has launched the Samuel Okparaeke Scholarship Fund to uplift future public servants.
Okparaeke was born in Cameroon and raised in Nigeria. His parents worked hard to move the family to the United States, where Okparaeke earned a bachelor's degree from Jersey City State University (he would go on to earn his master's at Rutgers almost 20 years later.) The oldest of seven children, Okparaeke devoted himself to caring for his family. "He helped put all of his siblings through college," says Amina Bey (MPA'13), a fellow graduate of SPAA's master's program and a beloved friend of Okparaeke. "He worked multiple jobs so his parents wouldn't be overburdened with tuition debt. It was important to him."
Even as he worked hard to help his family, Okparaeke also committed himself to his community. "He went back to Nigeria all the time," Bey says. "Sam and his family helped provide support for medical care for local residents. They assisted with the education of local children and helped those who could not afford school uniforms and things like that. He was very, very connected to his community back home in Nigeria — as well as his community here in New Jersey."
Bey spent 20 years working alongside Okparaeke in public service — namely social services and economic development — in Essex County. "Sam was my partner in Workforce Development and one of my closest friends," she says. Okparaeke helped create a variety of community programs that are still in place today, including a job search program and the design of the Essex County One-Stop workforce delivery system, which offers career counseling and vocational training, among other services. At the time of his passing, Okparaeke held three positions simultaneously: Executive Director of the Essex County Workforce Development Board, Essex County One-Stop Operator, and Executive Director of the Essex County Office of Small Business Development and Affirmative Action.
"The fact that Sam literally held three positions when he passed speaks to his level of dedication to Essex County and his employees," says Charles E. Menifield, dean of Rutgers SPAA. "He personified the sort of work ethic and dedication that we espouse at SPAA, acting as a great role model for all of our students."
During the COVID-19 pandemic, Okparaeke worked tirelessly to support individuals and businesses devastated by the crisis. Many small businesses are open and thriving today because of his dedication to supporting those with limited resources.
Now Sam's friends are carrying the torch to lead a fundraising effort for the Samuel Okparaeke Scholarship Fund. Like Okparaeke himself, the fund will support education, individuals, and the broader community. The scholarship will consist of an annual $25,000 award, to be distributed to SPAA students intent on a career in local government, particularly social/human services, workforce development, or economic development. The scholarship committee hopes the funds can support students from disenfranchised neighborhoods who might otherwise have to bury themselves under student loan debt or work several jobs to afford their degrees. "Sam believed that you shouldn't have to mortgage your future in order to get an education, and we agree," Bey says.
Joining in this effort are other longtime friends and colleagues of Okparaeke, including several SPAA graduates, who were very close to Sam and had a special relationship with him. The Samuel Okparaeke Scholarship Committee consists of Keisha Flemming, Danny Denise Gonzalez-Bosques (MPA'13), TaQuisha Knight (MPA'13), Art Cifelli, Bhavna Tailor, Arthur Jorge, and Anibal Ramos, Jr. NCAS'97.
The group is devoted to sustaining and growing the fund for years to come. Not only does the committee hope to raise far beyond $25,000 down the road, but they also envision a future in which students who receive support from the fund assist with fundraising down the line. The Samuel Okparaeke Scholarship Fund Committee wants to continue to pay it forward and lead by Sam's example, hoping that others will follow in his footsteps.