Rutgers SPAA Associate Professors Jiahuan Lu and Lindsey McDougle to Receive ARNOVA 2022 Proposed Research Awards at Annual Conference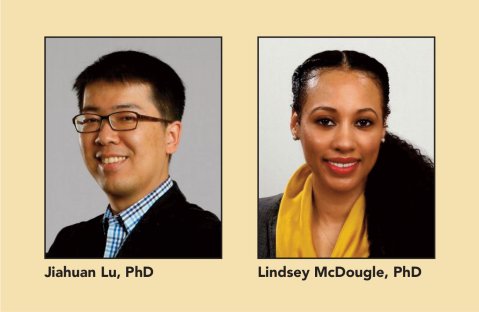 Drs. Jiahuan Lu and Lindsey McDougle, associate professors at Rutgers University–Newark's School of Public Affairs and Administration (SPAA), will both be awarded a 2022 proposed research award at this year's Association for Research on Nonprofit Organizations and Voluntary Action (ARNOVA) annual conference. Dr. Lu will receive the RGK-ARNOVA President's Award, which has been encouraging innovative, foundational research in the field of nonprofit and philanthropic studies since 2010. Dr. McDougle will receive the University of Maryland (UMD) Do Good Institute & ARNOVA Global Philanthropy and Nonprofit Leadership Award, which has been encouraging innovative, path-breaking research in the field of "global philanthropy or global nonprofit leadership" since 2016. This will be the first time that both awards go to the same institution in the same year. 
Dr. Lu's proposed project "Black Lives Matter, Stop Asian Hate, ...: Do Nonprofits Make a Difference?" will integrate data sources and literatures to examine the roles and functions of nonprofits in preventing hatred and racism. Dr. Lu will synthesize findings from published studies on the community-level effects of nonprofits. He also will look at the size of the nonprofit sector in communities to see if size relates to level of race-motivated hate crimes. He plans to use a 10-year longitudinal dataset on 100 U.S. metropolitan areas to test hypotheses. The award's evaluation criteria included methodological rigor, potential contribution to theory, creativity, feasibility, and capacity. According to the award committee, Dr. Lu's project is timely and has theoretical and practical promise to increase knowledge about influences on equity and inclusion, and hate crimes. It also addresses a classic question in nonprofit studies: What difference do nonprofits make?  
Dr. Lu is an associate professor of public administration and director of the MPA program at Rutgers SPAA. His research interests lie in the area of public and nonprofit management, with a focus on government contracting, nonprofit-government relations, and nonprofit financial management. His research appears in Journal of Public Administration Research and Theory, Nonprofit and Voluntary Sector Quarterly, Nonprofit Management and Leadership, Public Administration Review, Public Management Review, and The American Review of Public Administration, among other academic journals. He is currently an associate editor of Nonprofit Management & Leadership and an associate editor of Journal of Philanthropy and Marketing. He received his PhD in Policy Studies from the University of Maryland, College Park in 2014. 
Dr. McDougle's proposed project, "Strengthening Formal Philanthropy in Tanzania: A Pedagogic Approach," looks to explore "whether and to what extent participation in experiential philanthropy among Tanzanian youth is associated with positive changes in their philanthropic identities, and in turn, long-term changes in their attitudes and behaviors toward formal philanthropic participation." The project is in collaboration with Mama Tesha, founder of St. Margaret's Academy in Arusha, Tanzania. Dr. McDougle is building on her years of experience implementing experiential philanthropy in diverse contexts and pursuing this research through the innovative use of film. Proposals were evaluated based on methodological rigor, creativity, capacity, and contribution. According to the award committee, Dr. McDougle's proposal stood out for its theoretical rigor, capacity to contribute to discussions about global philanthropy, and established local partnerships. The committee was especially impressed by the creativity of the ethnographically informed filmmaking approach as well as the dissemination plan to reach audiences beyond typical journal readers and conference attendees.  
Dr. McDougle is an associate professor of public administration and director of the PhD program at Rutgers SPAA. Her research focuses on nonprofits and philanthropy. Her current work explores how, and to what extent, prosocial pedagogies in higher education can be used to cultivate student commitments to long-term philanthropic engagement, advance the civic mission of colleges and universities, and strengthen communities. Using a variety of methods and methodologies (e.g., narrative inquiry, participant surveys, secondary data analysis, and visual arts), Dr. McDougle explores these topics by examining relationships between prosocial pedagogies (e.g., experiential philanthropy) and several outcomes, such as the formation and development of prosocial identities among students and distributional equity in philanthropic grantmaking among funders.