Kyle Farmbry Named 10th President of Guilford College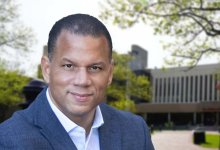 Dr. Kyle Farmbry, professor in the School of Public Affairs and Administration (SPAA) and former dean of the Graduate School at Rutgers University–Newark, and a lifelong academic leader and scholar of entrepreneurial development and global education, has been named the 10th President of Guilford College. Dr. Farmbry takes the helm of the private, nonprofit college of 1,500 students in Greensboro, North Carolina effective Jan. 1, 2022.
"I am thrilled to join Guilford, and engage with the students, faculty, staff, and alumni in leveraging the college's foundation of liberal arts education, Quaker discernment, and commitment to social equity for the wellbeing of local, national, and international communities," said Dr. Farmbry. He is the first African American to serve as Guilford's president, succeeding Jane K. Fernandes, who served as president from 2014-2020.
"We're thrilled for Kyle," said Rutgers University–Newark Chancellor Nancy Cantor. "The leadership he has exhibited here at Rutgers-Newark as dean of the Graduate School, as convener of collaborations with a network of universities in South Africa, and as a catalyst for international programs focused on creating pathways for refugees all point to how ready he is to lead an institution. The breadth and depth of Kyle's vision for how higher education institutions need to be connected locally and globally position him perfectly to lead Guilford College."
Dr. Farmbry's current research interest at Rutgers lies at the intersection of academia and private and independent sector entrepreneurial development. Guilford Board of Trustees chair Ed Winslow said those interests, coupled with Dr. Farmbry's innovative direction for higher education that go beyond traditional liberal arts, appealed to many people involved in Guilford's presidential search.
Winslow said Dr. Farmbry is excited about extending Guilford's reach beyond campus and into Greensboro. "Guilford may not be in the heart of the city, but we've always taken the city to heart," said Winslow. "Kyle gets that. He knows the impact Guilford can have across Greensboro in areas like social issues, the arts, and preparing graduates who can step into rewarding careers. He's going to build those bridges throughout Greensboro."
A proven senior administrator, executive, and thought leader, Dr. Farmbry holds a bachelor's degree in international affairs, a master's in public administration, and a doctorate of philosophy in public administration from George Washington University. In 2013, he earned his juris doctorate from Rutgers Law School. His training includes his having served as an American Council on Education (ACE) Fellow at the University of Pretoria in Pretoria, South Africa, a Fulbright Research Scholar in Malta, and a Fulbright New Century Scholar in Cape Town, South Africa. The National Academy of Public Administration selected Dr. Farmbry as a 2021 Fellow of the Academy, a prestigious honor recognizing his contributions to public administration and policy.
As dean of the Rutgers University–Newark Graduate School from 2013-19, Dr. Farmbry managed 14 doctoral programs and 19 master's-level programs for more than 1,000 students. Before beginning his term as dean, he served as the inaugural director of the undergraduate program in public service in the School of Public Affairs and Administration. While in this role, Dr. Farmbry was instrumental in blending an undergraduate program focused on developing an ethos of public service with a curriculum based partially in the liberal arts. Over the past decade, the program has grown from having 10 student majors to more than 200. As a professor, he teaches in areas of public administration, organizational theory, non-profit development, and strategic planning.
Dr. Farmbry has dedicated much of his career to diversity and inclusion, issues that reflect Guilford College's own ethos. While completing his doctoral studies, he served as director of diversity leadership programs with the Washington Center for Internships and Academic Seminars, an organization that places college students in internships in and around Washington, D.C. Dr. Farmbry was charged with placing a diverse population of student interns — more than 150 — on Capitol Hill, in federal agencies, and in nonprofit organizations in Washington.
"From the very beginning we made it our goal to find a transforming leader and we asked for the community to let us know when we found the right one. And that is what has happened," said Winslow. "Kyle understands this is a pivotal time in our history, he understands our challenges. But he also recognizes what Guilford has accomplished and he has a vision for what we can do. Kyle's the leader to forge Guilford's future."