Newark Nonprofit Masakhane Center Awarded Grant from SPAA Students as Part of Experiential Philanthropy Initiative Uses Funds for Internships and Workshops
Media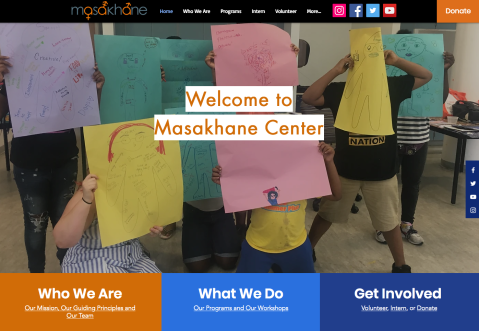 Students enrolled in Rutgers SPAA Associate Professor Lindsey McDougle's Volunteerism and Philanthropy course in the Spring of 2021 were provided with funds as part of an experiential philanthropy initiative supported by a generous grant from the Learning by Giving Foundation. These students were responsible for distributing funds to area nonprofit organizations that they determined make an important difference in the community. They chose to grant $5K of their funds to Masakhane Center – a youth-driven organization providing community-based sexuality education in and around Newark, NJ. The organization's anti-racist, pro-queer, and pro-trans approach to sex-positive programming seeks to promote sexual liberation, including the right to pleasure, for marginalized communities.
Stephanie Franklin, founder and executive director of the center, noted the donation was an enormous boost to the organization's programs. With the grant, the center was able to:
provide three internship stipends for trans and queer youth;
purchase materials to create over 500 safer sex packs, which were distributed to workshop participants;
purchase menstrual materials to create over 250 menstruation packs for workshop participants; and
purchase supplies to restart their in-person workshop programs.
"We have been so grateful for the work [SPAA students] put in to help us achieve these goals!" said Franklin. "Donations like this keep our program going."
About Experiential Philanthropy
In recent years, colleges and universities across the country have begun investing significant resources into this innovative new pedagogy. It is considered to be a form of service-learning and has been defined as a teaching and learning approach that integrates charitable giving with academic study in order to enrich learning, teach civic responsibility, and strengthen communities. Experiential philanthropy is intended to teach students not only about philanthropy, but also about how to evaluate philanthropic responses to local social issues. Unlike traditional service-learning, where students participate in an organized service activity that meets identified community needs, experiential philanthropy may or may not involve an organized service component. In fact, the primary goal of experiential philanthropy is not to create greater service opportunities, but to provide students with the opportunity to assume the role of a philanthropic funding agent on behalf of their local community.