Norma Riccucci to be Bestowed the Title of Doctor Honoris Causa by the University of Lausanne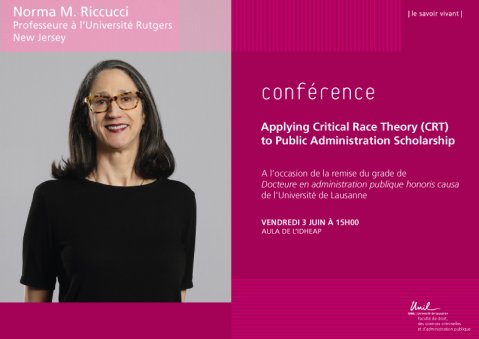 Board of Governors Distinguished Professor Norma M. Riccucci will be awarded with the honorary Doctor of Public Administration degree by the University of Lausanne in Switzerland. She will also deliver a lecture about "Applying Critical Race Theory (CRT) to Public Administration Scholarship" on June 3, 2022.
Her presentation will explore the applicability of Critical Race Theory (CRT) to research in public administration and policy. This framework has been applied to a number of fields including health, education, criminal justice, and sociology. CRT helps uncover structural and institutional racism, which create social inequities and inequalities throughout societies. Applying CRT to public administration is paramount given the high priority that the field places on social equity, the third pillar of public administration. In order to achieve social equity and justice, systematic and structural racism must be directly addressed and confronted head on. The global Black Lives Matter (BLM) movement is one example of the urgency and significance of applying theories from a variety of disciplines to the study of racism in public administration.