Pro-Am Tournament Provides Lighthearted End to Debate Season
Media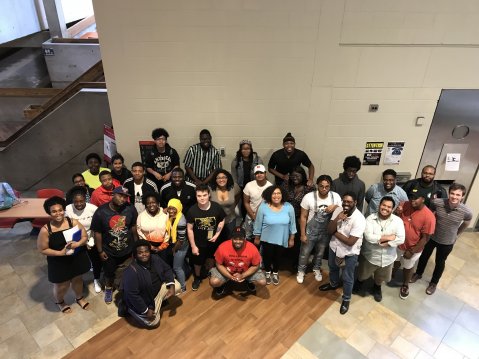 At the conclusion of another high-stakes and fast-paced debate season, the Rutgers University–Newark (RU-N) Debate Team and the Newark Debate Academy invited peers, rivals, and debate fans alike to the 6th annual Pro-Am Tournament at RU-N's Hill Hall on June 6, 2018.
Recognized as a community celebration of debate, the event switches traditional roles and places debate coaches in the hot seat while current debaters serves as judges. Opportunities to challenge or even team up with coaches add to the excitement.
"Switching roles and giving young debaters the opportunity to take the place of the people who often judge them and vice-versa encourages students to think and process speeches at a higher level while watching competitive collegiate-level debates," said RU-N Director of Debate Christopher Kozak.
This year's tournament attracted more than 60 students and coaches from colleges across the country, including the University of Rochester, Wake Forest University, Weber State University, Cornell University, James Madison University, and Liberty University; and from high schools and middle schools in the tri-state area.
"This event showcases college-level debate and fosters an ambition within middle school and high school students to pursue it when they go on to college and cultivates longstanding connections with local debate students as well," Kozak said.
The team of RU-N debate coach Ryan Wash and RU-N debater Chaz Wyche won the 1st place team award in the tournament. Second place was awarded to the pairing of RU-N debate head coach Willie Johnson and debate team alumnus Kevin Cenac. Wash and Johnson also won individual speaker awards, with Johnson as 1st place speaker and Wash in 2nd place.