Rutgers-NJPAC Partnership Supports Complementary Missions
Media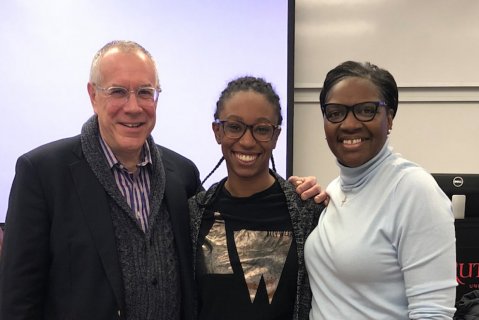 Long revered for its place as an anchor institution of the arts, the New Jersey Performing Arts Center (NJPAC) has recently taken center stage as an educational partner in Rutgers University–Newark's classrooms. NJPAC and Rutgers-Newark established a formal partnership last year through the creation of an arts curriculum that would provide students with an immersive experience into arts education and administration.
"It's a very intentional relationship to ensure that the missions of each anchor institution are addressed from a collaborative perspective," said Sharon Stroye, director of public engagement at Rutgers School of Public Affairs and Administration (SPAA).
Students enrolled in SPAA's "Arts and Culture in Public Service" course spent the semester taking part in the pilot program. The course, taught by Lois Warner, an assistant teaching professor at SPAA, was selected for the partnership because its arts-focused curriculum intertwined with NJPAC's mission of promoting arts education and civic engagement. The program launched in January 2018 with a behind-the-scenes tour of NJPAC followed by a succession of guest speakers, including NJPAC president and CEO John Schreiber who spoke to the students about managing a world-class artistic and community-based cultural and educational center in New Jersey.
Each class focused on a different aspect of NJPAC's mission and operations as the students learned about NJPAC's approach to earning profits while serving the community – a mission that resonated with Warner's students, many of whom dream of opening their own nonprofits.
"Professor Warner challenged me to shift how I perceived the public sector and its culture, and NJPAC's involvement only heightened the experience," said Lissa Desrosiers (SPAA'19).
During the semester, students attended themed sessions such as "Money Matters," which featured presentations on NJPAC's fiscal operations, and "Sheroes of NJPAC," a panel discussion with NJPAC's female executives about their career trajectories and the importance of developing the next generation of arts administrators.
"The students have been very excited and engaged. For some of them, this was their first time ever visiting NJPAC even though they are Newark residents," said Stroye. "Other students have signed up for volunteer opportunities with children, and this program is really extending the Rutgers-Newark community into what NJPAC is doing."
According to Stroye, the relationship is proving symbiotic as Rutgers-Newark provides its students with real-world applications of its curricula as well as exposure to volunteer, internship and career opportunities, and NJPAC gains exposure to a strong talent base as well as the opportunity to generate interest in its programs for a new demographic.
"NJPAC is delighted and inspired to participate in the School of Public Affairs and Administration pilot project. It has been an important initiative for the arts center as we believe mentorship is critical to growing the next generation of dynamic leaders," said Donna Walker-Kuhne, NJPAC's senior adviser for community engagement. "We look forward to continued participation and welcoming the students, faculty and administration to NJPAC events."
Stroye said that the pilot course is the first phase of what will be a more expansive role for NJPAC in terms of Rutgers-Newark's coursework and university programs such as student orientation, which will incorporate NJPAC tours for parents and offer opportunities to attend NJPAC events.
"I've learned about the great things NJPAC is doing for Newark, like bringing more money into the city," said Ta'Quan Youmans-Sterling (SPAA'19). "I've also learned how a nonprofit can stick to its mission even if it means making decisions that conflict with its budget. Overall, NJPAC is working hard to increase awareness of art and culture, which helps create a new way of living and appreciating Newark as the great place it was, is, and can be."