Rutgers School of Public Affairs and Administration Creates New Link with the City of Newark
Media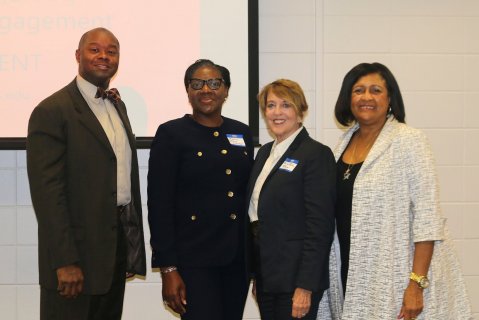 There's a new office at Rutgers University–Newark's School of Public Affairs and Administration (SPAA) that serves as a conduit between the university and community members and nonprofit organizations in the city. The goals of the Office of Public Engagement (OPE) are to connect city residents with faculty, share research and data with the community, and increase the number of internship opportunities for students in Newark and greater Newark.
"SPAA has a world-class faculty that is ready to play an active role in the community we live in," remarked SPAA Dean Charles Menifield at OPE's official launch on September 21, 2018. "One of my primary goals was to create a structure to engage with the community as a collaborative process of needs that is open and honest."
The renowned faculty of SPAA consists of experts in more than 11 different concentrations in public affairs and administration including local government management, nonprofit management, and public finance and budgeting. The variety and scope of expertise ensures there will be someone regularly available to help with specific needs such as data analysis and expert perspectives on social issues.
OPE opened its doors in January 2018 and currently has community collaborations with the New Jersey Performing Arts Center, Broadway House, the Essex County Prosecutor's Office, and the Community Food Bank of New Jersey, among others. The office was created as part of SPAA's strategic initiative to strengthen the school's relationship with the community.
The public launch to the community, at the Paul Robeson Campus Center Bergen Room, gave attendees an overview of SPAA and a chance to have their questions answered about what the new office has to offer. Attendees were given surveys to indicate their needs and how they envision collaborating with OPE.
OPE Director Sharon Stroye remarked, "This is a community endeavor! Through SPAA's Office of Public Engagement, we are cementing the school's partnership with the public, private, and nonprofit sectors to contribute to the public good."