Rutgers SPAA Collaborating with Big Ten Schools on Democracy in the 21st Century Initiative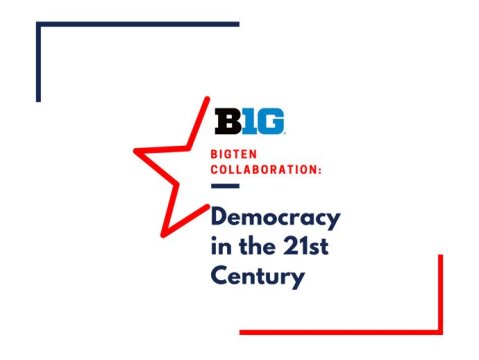 Rutgers School of Public Affairs and Administration (SPAA) is collaborating with public policy, public affairs, and public administration schools in the Big Ten Conference on the Democracy in the 21st Century initiative, an effort to develop educational programs that promote active civic education and engagement. The collaboration offers shared programming around issues and challenges facing democracy in this century and focuses on five thematic areas: civics education, voting, the federal judiciary in the 21st century, rural and urban environmental justice, and challenges to democracies globally. With participation from the Big Ten's fourteen schools, the initiative harnesses the diverse assets of the Big Ten to benefit the conference's students, faculty, staff, and local communities and encourage participation in our democratic processes through an array of programming, from signature events with national experts to policy simulations for students. 
Rutgers SPAA Associate Professor Stephanie Newbold is serving as the lead organizer for the section focusing on the federal judiciary in the 21st century. Dr. Newbold specializes in the intellectual history of public administration, democratic-constitutionalism, and the intersection between the American Constitution and the administrative state. In 2012, she served as the U.S. Supreme Court Fellow in the Office of the Counselor to the Chief Justice. 
"We are finding that students across all our campuses are incredibly interested in learning more about how the third branch of government is managed and operated, and we want to use this opportunity to educate and inform them on this important area of American government," said Dr. Newbold. 
Programming being planned in this area over the next academic year includes events to examine the institutional structures and dynamics of the U.S. federal courts and the Supreme Court in particular, as well as discussions of the political dynamics and social implications of the federal judiciary's decision-making. 
More information on the Big Ten Collaboration and upcoming programming can be found here: https://speakactvote.umich.edu/big-ten-collaboration.