Rutgers SPAA Gives Back Ahead of Thanksgiving
Media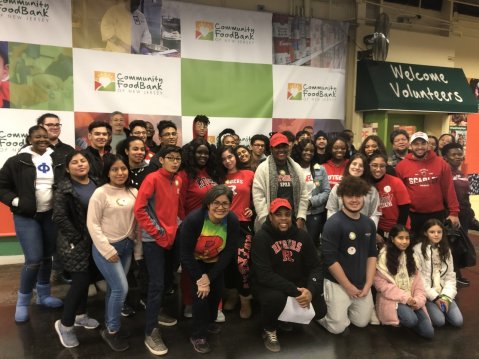 SPAA celebrated another successful Service Day on Saturday, November 23, 2019. The day kicked off at the Community FoodBank of New Jersey in Hillside, NJ, the state's largest anti-hunger and anti-poverty organization. Members of the SPAA community volunteered their morning to help the food bank prepare ahead of the upcoming Thanksgiving holiday. 
SPAA Service Day Fall 2019 Media Gallery
 
Assistant Teaching Professor Michael Dillard, who has organized the event for the last seven years, stressed the significance of selecting the weekend before Thanksgiving and encouraging the SPAA community to bring guests. "Students were not just volunteering their time to package food for needy families, this was really an opportunity for them to start thinking about the purpose of public service, see what it can look like, and how they can include their family and friends," Dillard said. "SPAA students are the image of public service; they are going to be the change agents."
The opportunity to give back brought together the largest group yet, with well over 100 SPAA students, staff, alumni, and guests. During their time at the food bank, the volunteers were split into three groups. One group bagged and labeled pasta, another group manually sorted mixed boxes of donations based on categories, and the remaining group used a conveyor belt to sort donations and pack boxes.
"The importance of events like this is to strengthen our commitment and dedication to the residents of Newark and the greater Newark area," Director of Public Engagement Sharon Stroye said. "Across the nation, there is an increase in the number of food insecure college students along with the continued increase of families suffering from food deserts. It is important that SPAA provides opportunities for our faculty, staff, students, and alumni to give back to communities they may have been raised in."  
Volunteering at the food bank is just one of several activities SPAA facilitates to engage and serve the community. Opportunities to serve not only allow students to positively impact their communities, but they also help students determine which career path they want to pursue. Engaging nonprofit organizations early in their academic career provides students insight on where and how they can best give back.
Associate Dean of Student and Academic Services Aaron Gibbs also spoke about the importance of providing these opportunities in collaboration with the school's Office of Public Engagement. "Pedagogically and pragmatically, SPAA prepares students for the greatest calling: service to others. Serving the public is a charge we do not take lightly. We hold a responsibility to give our talents, time, and effort back to the communities we are a part of. Our individual contributions are critical, yet our collective effort delivers the greatest impact," Gibbs said.
About Rutgers SPAA
The School of Public Affairs and Administration (SPAA) at Rutgers University-Newark educates and motivates students to choose careers in public service and administration through its innovative and comprehensive undergraduate and graduate degrees and professional and graduate certificate programs.
About the Community FoodBank of New Jersey
The Community FoodBank of New Jersey fights hunger and poverty in New Jersey by assisting those in need and seeking long-term solutions.