Rutgers SPAA Hosts Internship Workshop to Engage Community Partners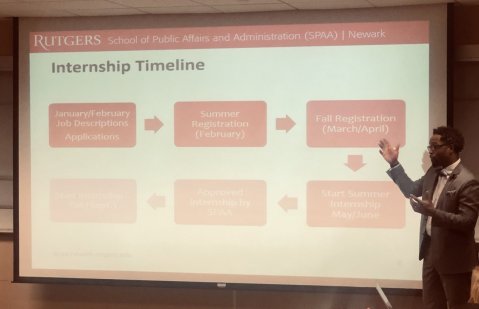 Public administrators and nonprofit managers from over 20 local organizations assembled at Rutgers University–Newark on Jan. 17 for the School of Public Affairs and Administration's "R-U Ready For An Intern" workshop. SPAA's Offices of Public Engagement and Student and Academic Services co-hosted the workshop with the RU-N Career Development Center. The workshop was the first of several new programs intended to engage community partners as SPAA expands career services for students and looks to provide effective ethical public service leaders to support the success and sustainability of the community.
"SPAA is committed to serving our community partners by ensuring they have the talent they need, when they need it, with the skill sets they require," said Sharon Stroye, director of SPAA's Office of Public Engagement. She explained one way SPAA is prepared to do that is by deepening relationships with partners and working together to build capacity with the hope of converting more internships into full-time opportunities. 

"We want to hear from you," Stroye continued, "We want to know what works best for you to ensure we are preparing students for the opportunities your organizations are providing."
Aaron Gibbs, associate dean of Student and Academic Services, echoed the importance of feedback and an ongoing conversation to ensure SPAA is always positioned to best serve its community partners as he spoke about timelines for internship placements within the academic calendar.
Assistant Teaching Professor Michael Dillard, who teaches the mandatory "Service-Learning Internship" course for undergraduates in the Public and Nonprofit Administration major at SPAA, detailed the school's current internship structure and expectations of the site supervisors. He emphasized SPAA's internship program is designed to provide real world experience that begins transitioning students to practitioners.
"Students are encouraged to think about their career trajectories and be intentional about the internship site, while site supervisors are expected to provide professional development opportunities and mentor students as they learn to navigate their careers," said Dillard. 
Wenylla Reid, associate director of employer relations at the RU-N Career Development Center, rounded out the session by outlining the National Association of Colleges and Employers' (NACE) guidelines on what qualifies as an internship and introducing RU-N's online job recruitment platform, Handshake. Reid also gave tips on how partners could organize impactful internships and write appealing job descriptions.
Community organizations interested in partnering with SPAA should contact Sharon Stroye, director of public engagement, at sharon.stroye@rutgers.edu.