Rutgers SPAA Professor Ariane Chebel d'Appollonia Selected as 2021-2022 George Soros Visiting Chair in the School of Public Policy at the Central European University (CEU)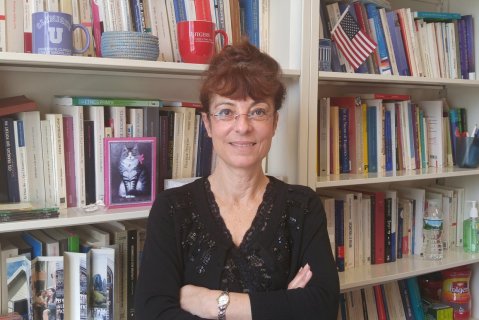 Dr. Ariane Chebel d'Appollonia, professor at the School of Public Affairs and Administration (SPAA) at Rutgers University–Newark, has been selected as the 2021-2022 George Soros Visiting Chair in the School of Public Policy at the Central European University (CEU), with her residence in Vienna starting in January 2022.
The George Soros Visiting Chair was established with generous contributions from the friends and family of George Soros, founder of Central European University and the School of Public Policy and Honorary Chairman of the CEU Board of Trustees. It is awarded to scholars or practitioners who have exhibited outstanding accomplishments or a well-known record of participation in the academic, professional, journalistic, political, or civic world of public policy. The program brings distinguished public policy scholars and practitioners together with CEU students from around the globe. Past George Soros Visiting Chairs included Ireland's former Prime Minister Ealmon Gilmore, renowned Indian activist Aruna Roy, and former United Nations Under-Secretary-General Karin Landgren.
Dr. Chebel d'Appollonia is an ethicist, historian, and political scientist best known for her immigration and security studies research. Since 2009, she has been a professor at Rutgers University-Newark, jointly at Rutgers SPAA and the Division of Global Affairs. She is also a senior researcher affiliated with the Center for European Studies and Comparative Politics (Sciences Po Paris). She has a master's and PhD in Political Science from Institut d'Etudes Politiques de, Paris, France. Her most recent paper, The Contemporary Repertoire of Contentious Identity Politics and Religious Conflicts in France, builds on Charles Tilly and Sidney Tarrow's work, analyzing contentious politics' framing and meaning in contemporary France. 
An in-house SPAA expert in immigration policy, she has actively participated in SPAA events addressing the impact and implications of a Trump presidency on immigration policy. Her latest book, Migrant Mobilization and Securitization in the US and Europe, discuss how immigrants and minorities in Europe and America have responded in diverse ways to security legislation introduced since 9/11 that targets them, labeling them as threats. She also researches in the area of racism and the management of diversity, homeland/national security, the ethics of international global policy, and public affairs. She is currently completing a book manuscript on ethno-racial violence and identity politics in America.
"While in Vienna, I will teach two elective research seminars for graduate students, give a public lecture open to the entire CEU community, and lead a faculty research seminar on my current topic of research which is on ethno-racial violence in America and Europe," said Dr. Chebel d'Appollonia.