Rutgers SPAA Receives 2021 Diversity Award from NASPAA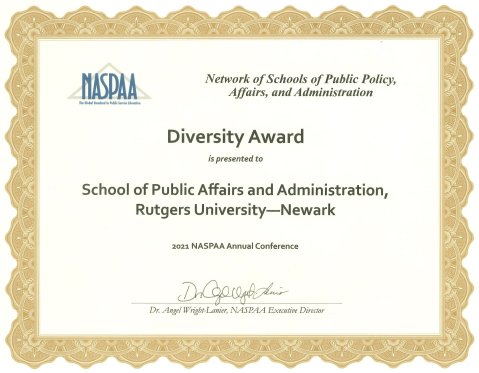 The School of Public Affairs and Administration (SPAA) at Rutgers University–Newark was awarded the 2021 Diversity Award by the Network of Schools of Public Policy, Affairs, and Administration (NASPAA) during a ceremony at the annual NASPAA conference held virtually this year. The award recognizes a NASPAA-accredited program that exemplifies the highest standards in promoting and supporting diversity through research, teaching, and service by faculty and staff.
"As one of the most diverse public affairs and administration schools in the country, as well as being part of one of the most diverse university campuses in the country, we are quite excited to receive this award for a variety of reasons," said Dr. Charles Menifield, dean of Rutgers SPAA. "One of the reasons that stands out is this recognition of all the work that we put into making the learning experience positive for our students, regardless of their racial and ethnic backgrounds."
Rutgers SPAA has a proud history of making meaningful contributions to scholarship, diligently preparing students, and thoughtfully serving its diverse student body, the city of Newark, and beyond while practicing and promoting diversity through various activities and initiatives. The school exemplifies and illustrates the highest standards in diversity through outstanding contributions in teaching, research, and service. Most recently, SPAA spent the last year evaluating the school's diversity, equity, and inclusion (DEI) efforts and made several positive changes, including working with other schools on the RU-N campus to create university-wide DEI concentrations, certificates, and minors.
"SPAA works to ensure that the diversity we all bring to the school is viewed as a significant source of strength, and this award reflects SPAA's ongoing commitment to honor such diversity," said Dr. Rachel Emas, assistant teaching professor and director of the Master or Public Administration (MPA) program at Rutgers SPAA.
"It is our goal to not only provide the best education experience for our students and to prepare them for real-world experiences, but we want to be trendsetters when it comes to diversity, equity, and inclusion for other programs," said Dr. Menifield. "This award is one more indicator that we are doing the right thing."