Rutgers SPAA Workshop Discusses How Utilizing Behavioral Insights Can Improve Public Services and Community Quality of Life
Media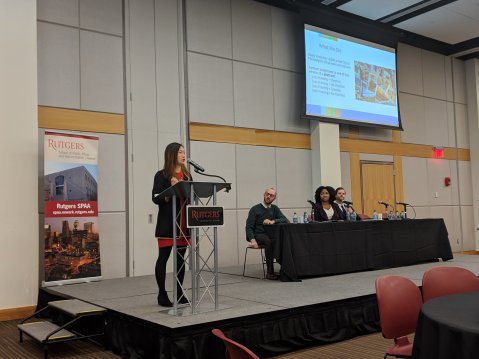 City officials, public administrators, and nonprofit managers assembled at Rutgers University–Newark on January 18, 2019, for the School of Public Affairs and Administration's Behavioral Insights for Better Urban Services workshop. Hosted by Professor Gregg Van Ryzin and Assistant Professor Sebastian Jilke of SPAA's Center for Behavioral and Public Administration (CEBPA), the workshop defined behavioral science and evidence-based policy for attendees and outlined how organizations can use behavioral science to improve public services and community quality of life.
"Given the special demands Newark has in terms of policies it wants to enact and services it provides to its populations, we saw this workshop as something beneficial to Newark and the greater area," said Jilke.
Two behavioral insights teams, Lab@DC based in Washington, D.C., and GovLabPHL in Philadelphia, led sessions where participants learned about these teams' operations and processes, their collaborations with local universities and community partners, and practical applications for municipal and organizational challenges.
"At my job, we always look for new and innovative ways to improve our performance and how we relate to the community," said Aisha Irvis, Senior Coordinator of Corporate Relations at NJPAC. "The event illuminated how we assume rational behavior will dictate decision making, when in fact there are a number of irrational factors that need to be considered – and that's really helpful in terms of my job and how to relate to different clients and sponsors."