Rutgers University-Newark Debate Team Claims Top Spot at Spring Kickoff Tournament
Media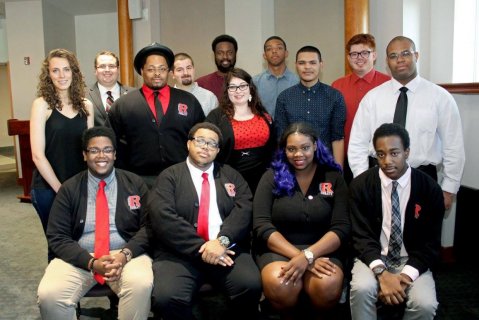 After ending the first half of debate season on a high note, the Rutgers University–Newark (RU-N) Debate Team, housed at Rutgers School of Public Affairs and Administration (SPAA), continues to gain momentum with a stellar performance and championship win at the Alan Nichols Debate Tournament hosted by the University of Southern California (USC). 
The debate partnership of Nicole Nave and Devane Murphy, and new partnership Chaz Wyche and Luis Carrera traveled to California in early January 2017 for back-to-back competitions at USC (Jan 3-5) and the Kathryn Klassic Winter Tournament at California State University, Fullerton (Jan 7-9).
Top-seeded duo Nave and Murphy breezed through the USC tournament with 10 debate wins in a row. With more than 80 of the nation's best teams competing, rematches and rivalries erupted as the team faced off against universities including Emory University, Baylor University, Liberty University, the University of Nevada, Las Vegas, and Towson University. The pair defeated Harvard – the top-ranked team that handed RU-N a loss earlier in the season – in the semifinals, and The University of California, Berkley (UC Berkelely), in the finals. RU-N's win over UC Berkeley mirrored its previous championship victory over the team at the University of Missouri-Kansas City Debate Tournament in 2015.
Murphy received the first place speaker award for his performance, and Nave was named the eighth speaker. 
During RU-N Debate's second tournament, held at California State University, Fullerton, the partnerships of Nave and Murphy and Wyche and Carrera competed. Nave and Murphy defeated three Harvard teams, and teams from the University of Vermont and Indiana University. Devane claimed another first place speaker award and Nave was awarded third place speaker.
Wyche and Carrera defeated Weber State University's top team, as well as Northwestern University, Indiana University, and Binghamton University. In the double-octofinals, the pair pulled off an upset by defeating the 10th seeded Emory team on a 3-0 decision as the 23rd seed. In the octofinal debate, they defeated George Mason University on a 4-1 decision before losing to Georgetown's second ranked team in the quarterfinals.
Kozak praised both teams for their strong showings, and credited Wyche and Carrera for an impressive run despite their first time as a partnership. Kozak asserted that the pairs gave one of the best performances in RU-N's debate program history.
As a former RU-N student himself, Kozak (SPAA '14) has assembled a team of seasoned coaches who share his passion for advancing the program. He credits them with driving this successful season.
Head Coach Willie Johnson joined the debate program in September 2014, and has more than a decade of national-level coaching experience. Coach Ryan Wash was a former top-speaker at the Cross Examination Debate Association National Championships, and won two national debate championships in 2013 alongside RU-N Debate Team alumnus Elijah Smith (SPAA '15). Coach Carlos Astacio is an RU-N Debate Team alumnus (SPAA '14), and assistant director of the Newark Debate Academy.
"National success like this is not possible without the outstanding leadership of the coaching staff," Kozak added. "We've had the advantage of having talented and experienced coaches to advise bright students which has led to a winning formula."