SPAA Alumna Jamie Hendrix (MPA'14) Awarded 2019 Clement A. Price Human Dignity Award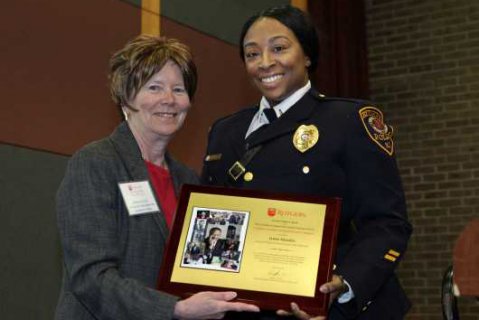 Rutgers SPAA Alumna and Rutgers University–Newark Police Department Lieutenant Jamie Hendrix (MPA'14) was awarded a 2019 Clement A. Price Human Dignity Award by the Committee to Advance Our Common Purposes (CACP) at a ceremony in mid-April. The award recognizes outstanding individuals or groups who have demonstrated extraordinary achievement and commitment to promoting and practicing diversity, inclusion, equity, and access within the University and/or in partnership with community organizations. It is named after the late Rutgers' Board of Governors Distinguished Service Professor Dr. Clement A. Price, historian, former chair of CACP, and founding director of The Rutgers Institute on Ethnicity, Culture, and the Modern Experience (IECME), which he established in 1996 at RU-N.
"Receiving the Clement Price Human Dignity Award was a momentous moment in my career at Rutgers University," said Hendrix. "I am honored to be considered someone who carries on Dr. Price's legacy. We pride ourselves at Rutgers University Police Department on serving the Newark Community, the University community, and we will continue to work hard to bridge the gap between both."
A member of the RU-N Police Department since 2011, Hendrix was recognized for her distinguished leadership and commitment to better serving diverse communities. Hendrix was integral in launching community partnerships, which are bridging understanding and respect between the Rutgers-Newark campus and the City of Newark. 
Hendrix graduated from Rutgers SPAA in 2014 with her MPA in Public Administration and Social Service Professions. She also completed her Bachelor of Science in Criminal Justice at Rutgers-Newark in 2007.