SPAA Alumnus Mitchell Stern (MPA'13) Turns Classroom Learning into Community Building
Media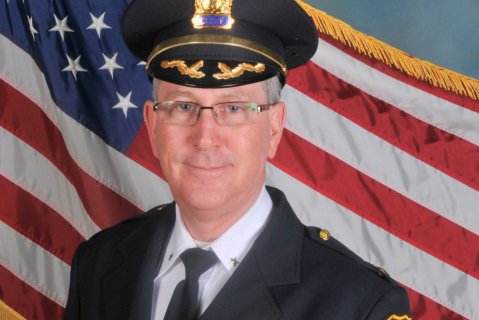 In April 2016, Verona, New Jersey, Police Chief Mitchell Stern made headlines when his quick thinking led to the prevention of an attempted suicide across the world in Verona, Italy.
Stern was the unintended recipient of an email warning of the student's intended suicide, and seeking help from local Italian police. Stern took action by successfully contacting INTERPOL, which precluded the young woman's attempt. Stern was praised as a hero whose compassion and instincts saved a life.
"I've tried to use it as a teaching moment," Stern said. "Some say 'most people wouldn't have done all that' but I think as a police officer that's what I'm supposed to do. One thing my previous Township Manager Joseph Martin taught me was that in Verona, we never say it's not our job."
Stern's actions illustrate his decades-long commitment to public service. Stern joined the Verona Police Department in 1985, fulfilling his childhood dream of becoming a police officer.
While Stern embraced his work, he had never been particularly enthusiastic about education. He had graduated from high school with a General Education Certificate and hadn't considered returning for additional schooling until Martin suggested enrolling in the New Jersey Certified Public Manager Program (CPM), sponsored by the State of New Jersey.
The CPM program helped Stern realize that his work experience translated into 55 college credits and within five years, he earned his bachelor's degree at Fairleigh Dickinson University, completed the Senior Executives in State and Local Government Program at the Harvard Kennedy School, attended the Lead NJ program, and earned his executive master of public administration at Rutgers School of Public Affairs and Administration (SPAA).
"I really just got on the education bandwagon and found the value of continuing my education, partially to help me get promoted along the way or help with a second career, but more importantly, my views changed on everything," Stern said (SPAA '13). "I realized that I was working with a lot of people that I'd never worked with before."
Stern said that through his Executive MPA and the CPM program, he interacted with people with diverse backgrounds and experiences and became aware of issues and challenges with which he had not previously been familiar, including in areas such as workforce development and prisoner reentry.
When Stern conferred with his peers regarding an unprecedented issue of a few homeless individuals in Verona, he was able to connect with people in mental health and social services who provided pathways of assistance for them.
"For our last two homeless people, a few of Verona's senior police officers obtained identification for them, and enrolled them in social service programs – they now get money from welfare and food vouchers," he said.
Stern has also improved his department's technological capacity by creating its social media presence, developing an emergency notification system for the community, and digitizing his office's paperwork.
"Mitchell Stern was in my Analytical Methods – now Applied Statistics – class years ago," said Yahong Zhang, an associate professor at SPAA. "He was a good student, very smart, diligent, and calm. Talking with him after class, I knew he served in the Police Department in Verona, NJ, where I live. I am very proud of him."
Outside of his role as chief, Stern is also the president of the State CPM Alumni Association and has facilitated Verona as a host site for CPM courses for the past three years. His knowledge and commitment to the program made him a crucial player in helping Rutgers SPAA implement the CPM program in 2012, and he is a primary advocate of CPM's benefits.
"Of a 30-member police department, all but one of our supervisors are either now in CPM or CPM graduates," Stern said. "I don't even suggest it anymore, I used to, but now officers come to me asking to be enrolled."
Stern said that at this point in his career, he has accomplished his goals and is committed to expanding his experiences, networking, and continuing to learn.
"I was a kid who left high school, got a GED, followed the dream that I wanted to as a police officer, and worked my way up through the ranks to the top position," Stern said. "I attended school against all odds – a lot of loans, a lot of second jobs – and realized that I had to ability to do it, and I did it."