SPAA BA Graduate Profile: Anna Agbotse (BA'20)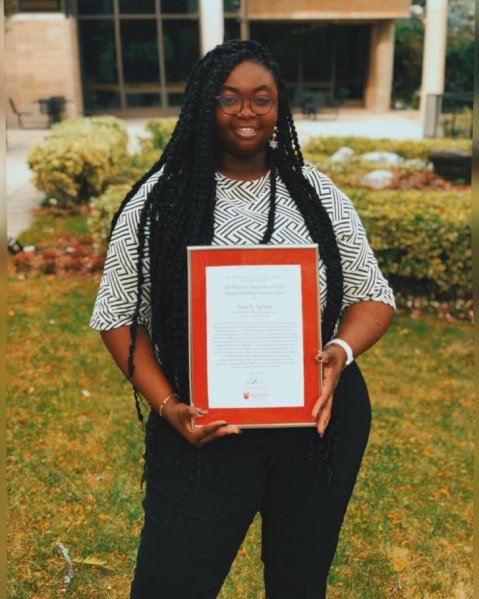 Full Name: Anna Agbotse
SPAA BA Graduation Year: 2020
SPAA MPA Graduation Year: Anticipated May 2022
Current Position: CEO, We Are the Voice International and International Political Advocate 
Why did you choose the BA program at SPAA and what did you enjoy most about it?
I knew I carried a voice that has the potential to unite people. However, I did not really know how to go about it as a career. I actually convinced myself that it was impossible until I attended Rutgers University–Newark as a biology major. I discerned that biology was not what I wanted to do so I began to seek an alternative. Through my search, I enrolled in one of SPAA's elective courses and the rest is now reality. I am a CEO of my own nonprofit. The BA program at SPAA gave me access to my wildest dreams. What I enjoy the most about SPAA is the sense of family and tremendous administrative and faculty support.
What were some of your most meaningful experiences at SPAA?
I have a lot of meaningful experiences at SPAA, but the top ones are: A) Registering as a SPAA major – It signified a big step in my purpose; B) Becoming a SPAA ambassador – I connected with many people that expanded my horizon as an incoming public administrator; C) The wonderful conferences – two words: educative and dreamy.
What choices did you make at SPAA that contributed to your career success / journey?
I recognized the comfort I was risking registering as a SPAA major. Therefore, I did not take any moment for granted. I did not know that I would create an organization; that was not the "goal." I just wanted to speak, to use my "superpower" to unite people. My choice was to apply the knowledge I acquired from class to the world without hesitation and here I am today doing all that I am doing at a young age.
What was your first job after graduation and what other jobs did you have before your current position?
My first job after graduation was becoming the CEO of We Are the Voice International. The jobs I did before were as a freelance public speaker and as an executive assistant for an international program at Rutgers.
What do you like about your current job and what do you find challenging? How does it relate to your degree?
What I like the most about my current job is the team. Everyone is unique. They all carry specific strengths, and what I appreciate the most is their willingness to learn and grow in their positions. What I find challenging is the international aspect of the organization. It requires an unimaginable level of selflessness and discipline. As a public administrator with a degree in nonprofit administration, I am able to manage and oversee all assigned tasks and activities with ease. My degree taught me one of my strongest attributes as a CEO and it's being a transparent leader. 
From your experience, what has been the value of having an undergraduate degree in public and nonprofit administration? How has the degree benefitted you?
From my experience, without this degree We Are the Voice International would not exist. The people we represent would not be heard. I am an international political advocate because of this degree. This degree is my instrument to fulfilling my purpose.
Are there any other achievements or activities you would like to highlight?
I released my professional website to the public detailing my work as an activist and CEO: annaagbotse.com. I am also accommodating more bookings for public engagements virtually and in person. Lastly, I will be teaching a very limited three-leveled course about public speaking (opening in January 2021).
What advice would you give to students and alumni interested in breaking into your industry?
To my fellow alumni: you are who we are waiting for; do not lose sight of your dreams. Whatever reason you decided to graduate with a BA in public administration, it is still very relevant today. It doesn't take huge steps to reach your career goals or purpose, it takes little steps that add up to the big opportunities and moments. Treat every step like gold no matter how "small" they are. To my fellow students: walk into every class (perhaps to be more in line with our current situation, log into Zoom) with a practical mindset. Be ready to practice what you learn. As a public administrator you project yourself as the solution to your state, community, and country. It is absolutely normal to be nervous, but it is also normal to be bold. You carry it, you do not need to have everything figured out. Step out and speak up.