SPAA BA Graduate Profile: Claudia Saavedra (BA'18, MPA'20)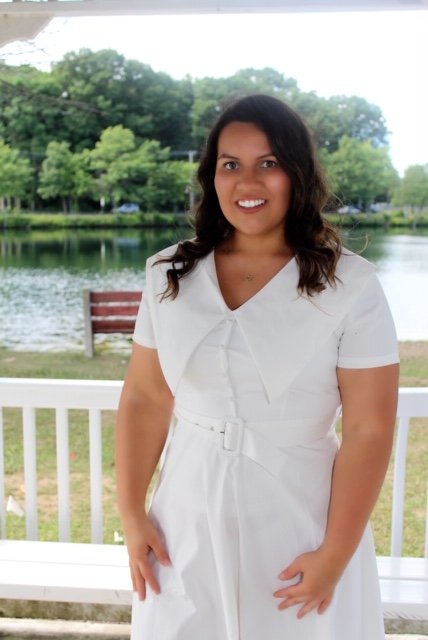 Full Name: Claudia V. Saavedra
SPAA BA Graduation Year: 2018
SPAA MPA Graduation Year: 2020
Current Position: Consultant, Crowe LLP
Why did you choose the BA program at SPAA, and what did you enjoy most about it?
I chose the BA program at SPAA because I did not just want a theoretical education, I wanted a practical experience. The value of my degree at SPAA is unlike any other public administration program. I believe that the professors who teach at SPAA want you to gain practical knowledge and do more than just teach the theory of public administration. The professors who teach at SPAA are what makes the program great, as many of them have worked in government or nonprofit sectors prior to teaching at Rutgers. In many classes, my professors have brought in guest speakers who held high positions in the public sector which brought that element of real-world experience. In the majority of my classes, we had to help solve problems of nonprofit organizations by researching, developing a proposal, and creating reports that were presented to the leaders of organizations.
What were some of your most meaningful experiences at SPAA?
My most meaningful experience at SPAA was Dr. Michael Dillard's class where we went to Hillside Community FoodBank and volunteered as a class. This to me really demonstrated the value of service that SPAA always puts at the forefront. Different classes came together for a common purpose and cause to help the good of the community. 
What choices did you make at SPAA that contributed to your career success / journey?
I believe attending Rutgers SPAA allowed me to learn about opportunities such as Management Leadership for Tomorrow and Braven. These are two fellowship programs that have prepared me for the workforce by providing me with effective interview and job search strategies while also providing me tools for becoming an authentic leader. The opportunities that you are involved in – whether that is an extracurricular or volunteer activity, job, or internship – will help you gain a lot of transferable skills that employers are looking for in candidates. Do not just focus on your studies, also focus on things outside the classroom. 
What was your first job after graduation, and what other jobs did you have before your current position?
I am grateful that I am still working at my first job after graduation in the midst of this pandemic. Throughout college, I had the opportunity to work in various capacities in several industries. This included the Aspen Institute, Teach For America, Cargill, and Rutgers University to name a few. I believe these experiences provided me many transferable skills that will help me in my professional career. 
What do you like about your current job, and what do you find challenging? How does it relate to your degree?
Being a consultant, you learn new things all the time which is something I love. Every day I am challenged, since with every client there are always different problems that you have to solve – no day is the same. You are not stuck learning about only one aspect of an organization, you learn about the various components that make up an organization. You are constantly trying to keep up with the most recent policies whether state, local, or national, and trying to understand how this applies to your client. You interact with high-level executives every day and provide them advice on how to make their organization better and thus impact more people they are serving. I mainly consult nonprofit and governments and my degree from SPAA has helped me provide value to clients as I have an in-depth understanding of how the public sector operates.
From your experience, what has been the value of having an undergraduate degree in public and nonprofit administration? How has the degree benefitted you?
Many of my professors have become my supporters and mentors. At SPAA, I believe I truly gained a family like no other. My degree has benefited me as I learned that being a great leader is to be a great listener and to create spaces so everyone's voice is heard. SPAA not only taught me that through the books we read but also by always working in teams in every class. I learned how to work with people who come from different backgrounds with various ways of communicating. 
Are there any other achievements or activities you would like to highlight?
Although I am working full-time, I always want to give back. I do this by volunteering for opportunities my employer provides while also mentoring students who are navigating the workforce. I am still continuing my efforts of bridging the opportunity gap by continuing my social venture project, FlairNow, which is a project I started in high school to help low-income and first-generation students with the college and career process. Currently, we are building a universal application for scholarships and professional development opportunities. Through one application, students get matched, browse, and apply to hundreds of opportunities. I was fortunate enough to speak further about this venture at the Aspen Ideas Festival during the month of October.   
What advice would you give to students and alumni interested in breaking into your industry?
Network, network, network! The industry is full of highly ambitious individuals so connecting with others within the companies you are targeting will help you get your foot in the door. One way to network is by cold messaging people on LinkedIn and asking for 15 minutes of their time. You will get a lot of no's. People won't respond but do not get discouraged, keep persisting. Every no is one step closer to a yes. Look for opportunities called "leadership programs" that companies have. These opportunities are all-expense-paid trips and sometimes they also provide scholarships and offer you an internship right after as well. Taking the time to apply for these opportunities does not hurt! Apply for opportunities you believe you do not qualify for because the organization might be looking for a candidate with your exact skillset.