SPAA BA Graduate Profile: Erik Cruz Morales (BA'18, MPA'19)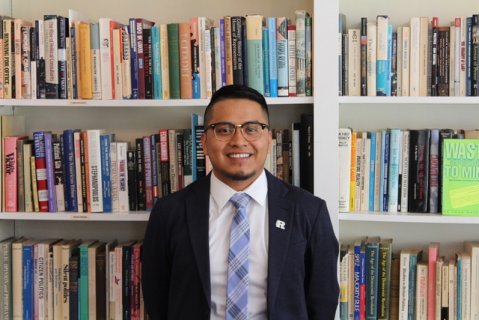 Full Name: Erik Cruz Morales
SPAA BA Graduation Year: 2018
SPAA MPA Graduation Year: 2019
Current Position: Program Associate, The Fund for New Jersey
Why did you choose the BA program at SPAA and what did you enjoy most about it?
I decided to enroll in the BA program at SPAA because it is committed to public service and allows students access to a high-quality education while fostering a public understanding of societal issues. What I enjoyed most about SPAA was connecting with different students with similar interests and diverse backgrounds. I made various friends and connections that I am very close to today. We often talk and support each other with our goals.
What were some of your most meaningful experiences at SPAA?
During my time at SPAA, I was able to get the support and backing of academic advisors and school administrators to finish my education and receive my MPA degree regardless of my immigration status as a DACA recipient. As an undocumented student resources are very limited, and it's often tough to attend higher education, let alone receive a graduate degree. At Rutgers-Newark, I had support and commitment from everyone to succeed.
What choices did you make at SPAA that contributed to your career success / journey?
I applied and was accepted into the BA/MPA program, and earning my master's degree in public administration allowed me to have more opportunities.
What was your first job after graduation and what other jobs did you have before your current position?
My first job was program associate for The Fund for New Jersey, a position that I currently hold. I previously interned for the New Jersey Housing Mortgage and Finance Agency, The American Civil Liberties Union of NJ, Assemblyman Gordon Johnson's district office, and Congressman Bill Pascrell's district office. 
What do you like about your current job and what do you find challenging? How does it relate to your degree?
What I enjoy the most about my job is the ability to create change in New Jersey. As a private foundation, we allocate grants to different nonprofits in the state. These nonprofits are working toward progressive change and improving the quality of public policy decision making on the most significant issues affecting the people of New Jersey and our region.
From your experience, what has been the value of having an undergraduate degree in public and nonprofit administration? How has the degree benefitted you?
Before transferring to SPAA, I was not aware of the endless possibilities nonprofit organizations offered. This degree has opened more opportunities than I could have imagined. The value is that it allows for a deeper understanding of the policy making process and the change you can make with your work.
Are there any other achievements or activities you would like to highlight?
I enjoyed being part of the Eagleton Institute of Politics Fellowship with my SPAA classmates Francisco and Dorothy. This fellowship allowed us to connect with political strategists and different members of the NJ legislature and expand our knowledge about NJ government and politics. I would recommend that SPAA students apply for the Eagleton undergraduate associates program or the graduate fellowship program. It is filled with many opportunities, and if you take advantage of it, it can help you in your career.
What advice would you give to students and alumni interested in breaking into your industry?
Connect and network with different professionals in the nonprofit/government sector. I think the best way to look for opportunities is to be able to get your name out there and to be able to build relationships. One can start by volunteering, asking questions, attending events, and interning for different organizations.