SPAA BA/MPA Students Anna Agbotse and Ana Olivera Selected for 2021 Impact Investing Bootcamp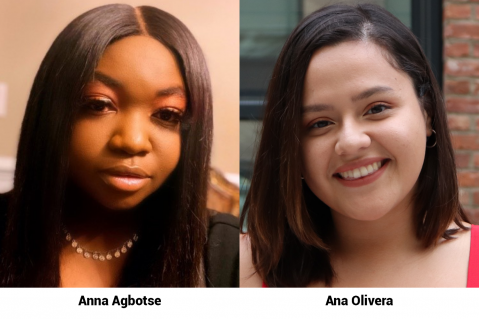 Anna Agbotse and Ana Olivera, 5-Year dual bachelor's/Master of Public Administration (MPA) degree students in the School of Public Affairs and Administration (SPAA) at Rutgers University–Newark, have been selected for a three-week Impact Investing Bootcamp scheduled for July 12-30, 2021.
The bootcamp is run by University Impact (UI) which helps fund companies and nonprofits solving social and environmental problems. UI hosts the Triple Donor-Advised Fund, a social impact fund that makes donor investments while creating the next generation of social venture leaders. This year's UI bootcamp will engage students from South Africa and the United States, and is sponsored through the U.S. Department of State's University Partnerships Initiative. Bootcamp attendees participate in an in-depth impact investing program, which includes hands-on experience with the due diligence process and training on the hard and soft skills required of an impact investment professional.
As part of a collaboration with SPAA, Agbotse and Olivera will be the first students from Rutgers University to join the UI impact investment training. Their cost of participation is being covered by a scholarship from the Global Educator Network.
The Impact Investing Bootcamp opportunity caught Olivera's attention due to its emphasis on social impact investment. "As I move forward with my goal to start my own nonprofit, the bootcamp is a perfect opportunity to learn complex problem solving for organization management," she said. "It is also an excellent platform to learn the soft skills needed to be a successful impact investment professional who can transcend across industries allowing for a unique perspective in future opportunities." 
Learning how to invest in a nonprofit globally, building an organization's financial structure, and identifying solutions for social issues from an economic standpoint were some of the key motivations behind applying for the bootcamp for Agboste. "I run a nonprofit that is now developing a stern foundation for both the platform we are building to amplify the voices and attaining investments from our projects," she said. "The Impact Investing Bootcamp presents a solution to both challenges of the organization, and I simply could not pass this opportunity to access solutions for the nonprofit I lead."
For both Agbotse and Olivera, SPAA Professor Dr. Kyle Farmbry's encouragement and recommendation were vital in applying for this initiative. 
"This is an exciting opportunity for Rutgers University–Newark and SPAA to be represented in this Impact Investing Bootcamp with students from South Africa and the United States," said Dr. Farmbry. "It also provides an opportunity for SPAA to build on some of the exciting university partnerships we have been creating with colleges and universities in South Africa. Ana Olivera and Anna Agbotse are great representatives of our student body, and I know they will represent SPAA well in this inaugural year of partnering with University Impact."