SPAA BA Student Anna Agbotse Awarded 2020 Rutgers College Class of 1962 Presidential Public Service Award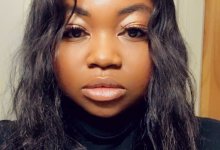 Rutgers SPAA BA student Anna Agbotse is the recipient of a 2020 Rutgers College Class of 1962 Presidential Public Service Award. The award, funded by the Rutgers College Class of 1962, honors members of the faculty, student body, or staff in recognition of distinguished and non-compensated service to government bodies, professional or scholarly organizations, and/or the general public, such as voluntary community leadership and personal acts of heroism.
"I froze, I could not believe what I was reading," said Agbotse. "To be nominated for this award was an honor on its own, but I could not believe that I was selected as an undergraduate for this prestigious award. Thank you, SPAA!"
A member of the Class of 2020, Agbotse was recognized for her empowerment of disenfranchised communities in the US, Ghana, and other African nations. Agbotse is a recognized human rights activist and active member of the Rutgers-Newark community and SPAA family who started a nonprofit organization, We Are The Voice, to put action to her activism.
Agbotse has a history of serving and continued that tradition during her time at SPAA. Director of the Office of Public Engagement, Sharon Stroye, nominated Agbotse for her passionate and unwavering service.
"Anna is creating an important platform for young people to have a voice on the political stage," said Stroye. "Her impact is expanding and is she establishing new ways to reach, support, and empower disenfranchised communities here and in Africa."
Agbotse will graduate from Rutgers SPAA this spring with her BA in Public and Nonprofit Administration. She plans to apply to SPAA's MPA program and continue her activism.