SPAA Dean Charles Menifield Inducted as a 2018 Fellow by the National Academy of Public Administration
Media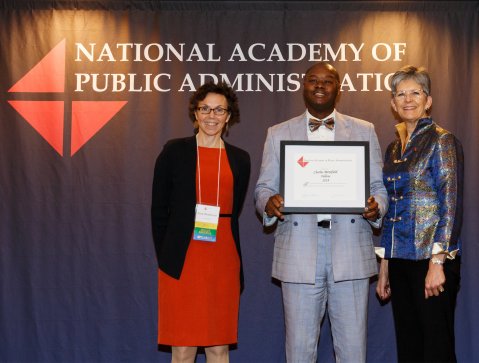 Dr. Charles Menifield, dean of the School of Public Affairs and Administration at Rutgers University–Newark, has joined the National Academy of Public Administration's 2018 Class of Academy Fellows in recognition of his years of public administration expertise. Menifield was one of 40 fellows inducted on Thursday, November 1, 2018, during the Academy's Annual Fall Meeting held in Washington, D.C.
NAPA is an independent, nonprofit, and non-partisan congressionally chartered organization established to assist government leaders in building more effective, efficient, accountable, and transparent organizations. The Academy works with clients at all levels of government across the United States and the world.
"I am extremely honored to be selected to join the National Academy of Public Administration for doing the work that I love," said Dr. Menifield. "There is no greater honor that a public administration professor can receive than this selection, and I hope that I can continue to live up to this honor."
Dr. Menifield has a strong record of national leadership roles in public administration and is widely respected for his scholarship on budgeting and financial management, public health, welfare, and the participation of underrepresented groups in politics. He has twice been a visiting scholar at the Congressional Budget Office in Washington, D.C., where he did extensive research on state implementation of the Children's Health Insurance Program; served as president of the International Conference on Local Government, been on the Executive Council of the Network of Schools of Public Policy, Affairs, and Administration; and served on the editorial boards of prominent journals such as Public Administration Review; the Journal of Public Budgeting, Accounting and Financial Management; and the Journal of Health and Human Services Administration.
He earned his PhD in political science (in the fields of American politics and public administration) at the University of Missouri – Columbia, and both his master's in public policy and administration and his bachelor's degree at Mississippi State University.
"I am pleased to welcome Charles Menifield to the 2018 class of Fellows," said Academy President and CEO Terry Gerton. "Our Fellows are nationally recognized for their contributions to the field of public administration and Dr. Menifield is no exception. The 2018 class is an outstanding group, representing the best in public administration professionals, and will enrich our Fellowship, especially as we launch an effort to identify and address grand challenges in public administration."
Selection of the Academy's new Fellows follows a rigorous review of the individual's contributions to the field of public administration and policy. A Fellows Nominating Committee makes its recommendations to the full Fellowship, which then votes on those individuals nominated to be a Fellow. The 2018 class joins nearly 900 Academy Fellows – including former cabinet officers, members of Congress, governors, mayors and state legislators, as well as prominent scholars, business executives, nonprofit leaders, and public administrators.