SPAA Graduate Profile: Ednan "Eddie" Rizvi (MPA'20)
#RutgersSPAA #SPAAisPublicService #RUNewarkStrong #RUNGrads2020 #RutgersResilience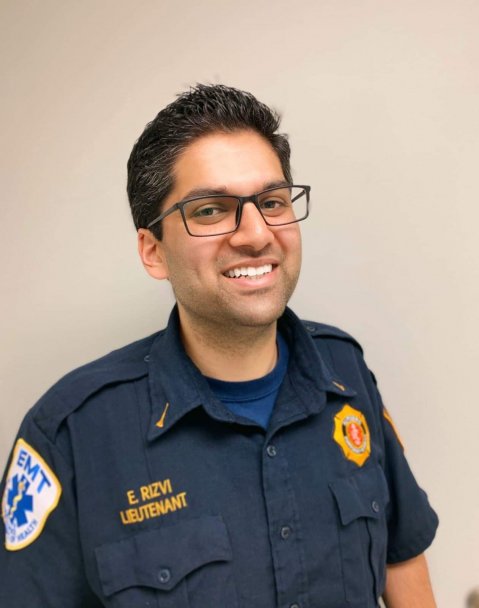 Name: Ednan "Eddie" Rizvi
Degree Program: Master of Public Administration
Concentration: Nonprofit Management
Name of Organization: Rutgers University Emergency Services
Title: Lieutenant
Why did you enroll at SPAA? 
For my graduate degree, I wanted to explore a new city, be a part of a more diverse community, and join a smaller school like SPAA. I am an employee on the Rutgers New Brunswick Campus and graduated with my bachelor's degree in Public Health in 2015. I have been deeply involved with the Rutgers New Brunswick community for many years, but I wanted to engage with a different Rutgers community. 
What do you hope to accomplish with your degree? 
I am fully committed to public service and confident that I will pursue an altruistic career path.  
I initially enrolled in the MPA program at SPAA to pursue work in the international humanitarian sector, but since I began my career aspirations have changed multiple times. I am unsure ultimately which direction my career will take me in, but I am confident that SPAA's MPA degree equipped me with the necessary goals to be an effective public sector employee. 
Favorite SPAA memory?
Sitting on the second floor of the CPS building before class. I often found myself arriving at school early just so I could run into classmates sitting in the second-floor study area. Most of the time, we did not get much work done, but we exchanged stories of our time at SPAA and how to navigate the complexities of the graduate program. 
Biggest challenge?
Finding balance between work, school, and your personal life. As with most graduate degrees, most of the assignments were due toward the end of the semester. For the past two years, my family and friends knew they would most likely find me at the library in December and May. Often times, I had to use vacation time from work to go to class or to write papers. Sometimes I think graduate school is more about balancing different parts of your life and managing time than it is about the actual coursework. 
Next steps? 
I am looking into different academic options, but I still am deciding whether that includes a doctoral program, nursing school, or business-related certifications/coursework. I am, however, confident that I will continue to learn and grow both in and out of the classroom. 
Advice to incoming students?
Enjoy your time at SPAA; it is a great family so I recommend using your short time at the school wisely. The time will fly and before you know it, you will be graduating. Try your best to form meaningful friendships and network for future career opportunities. Unlike some of the other schools I have attended, the SPAA faculty is very invested in their student body. Students should reach out to professors who have common interests and ask for research opportunities, or career advice.  
How are you/your organization serving during the pandemic?
Our organization is serving the Rutgers community by providing fire and emergency medical services to the students, staff, and medical facilities that remain on campus during the pandemic. While emergency workers are considered "heroes" lately, I believe we are just doing the jobs we signed up for. We signed up to be public servants and there is no better time to be serving our community than during a public health emergency.
What keeps you motivated?
I am mostly motivated by stress. Having worked in emergency services for almost a decade, I am used to having a certain baseline of stressfulness in my life. I thrive in the workplace or in school environment when I have multiple projects or assignments to complete at one time.