SPAA Graduate Profile: Michelle Amparbin (MPA'21)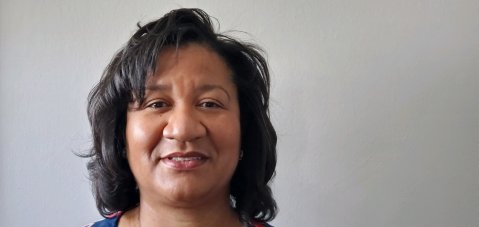 Full Name: Michelle Antoinette Amparbin
Age: 53
Hometown: Somerset, NJ
Degree Program: Master of Public Administration (MPA)
Concentration: Leadership of Public Organizations
Graduation Year: 2021
Why did you enroll at SPAA?
I knew an advanced degree was needed to further my career in public service. Enrolling at SPAA has been an amazing journey for me. The biggest influences to pursue a career in the public sector were my parents. My mother is a retired educator who spent more than 30 years inspiring students. Secondly, my parents have served as district leaders in their community for many years. The influence of my parents, my passion for helping others, and my active engagement in campus and community service-based organizations as an undergraduate motivated me to search for schools that offered a graduate degree in public administration. 
My exploration led me to selecting the Rutgers University–Newark SPAA program. Other factors that influenced my decision to enroll at SPAA were the campus diversity and that I am originally from Newark. From the moment I attended the SPAA open house, I felt welcomed by the staff. 
What do you hope to accomplish with your degree?
Earning a degree is part of a lifelong journey toward learning and self-improvement. I intend to use the insight, knowledge, and skills I have developed on this journey to empower and motivate students at various stations to change the trajectory of their lives as they pursue higher education. As Nelson Mandela stated, "Education is the most powerful weapon which you can use to change the world." 
Favorite SPAA memory?
Collaborations with my classmates on assignments and projects are my favorite SPAA memories. Working together made it easier when we encountered challenges. We incorporated the public service values of accountability, dedication, inclusiveness, transparency, and reliability to complete tasks. Prior to COVID-19, we met before or after classes to work together in groups. Transitioning to remote instruction for classes required us to stay connected through technology. I miss connecting with my classmates on campus. 
Biggest challenge(s)?
Beginning my college education as a non-traditional student was my biggest challenge. I experienced difficulties with finding a balance between work, school, family responsibilities, and making time for myself. I limited my social activities with my family and friends because my education is my priority. Courage, perseverance, and passion were the qualities that helped me overcome many challenges as I pursued my degree. I must acknowledge that I am blessed and grateful for the support and encouragement that I received from my husband, my parents, other family members, friends, mentors, and professors. 
Next steps?
I plan to continue working in higher education. I aspire to serve as a leader who can help eliminate barriers for students who are marginalized and inspire them to engage in community service. I am also considering continuing my education to earn a doctorate degree. 
Advice to incoming students? 
My advice to incoming students is to establish and nurture quality connections with their classmates. Form cohorts to mutually encourage and support each other in your classes. Be proactive by positioning yourself for successful outcomes. Candidly speak with your professors during their office hours to establish rapport and determine what practices could affect success. Last, build relationships with forward thinking and progressive individuals who have integrity. These individuals can offer guidance and serve as informal and formal mentors along your journey.