SPAA Kicks Off Community Research Series with Discussion on Open Government
Media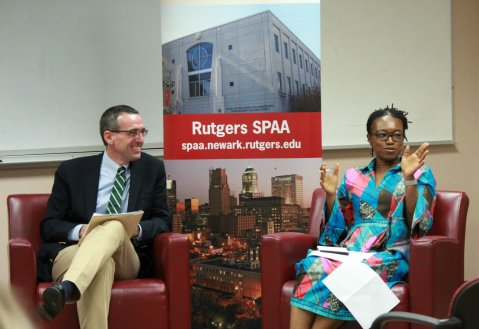 Four experts on open government came together at the School of Public Affairs and Administration on September 28, 2018, for a roundtable discussion titled "Can Open Government Promote Good Governance?" which explored the impact of open government initiatives on the lives of citizens.
The roundtable, hosted by SPAA's Transparency and Governance Center in coordination with SPAA's Office of Public Engagement, was the kickoff event for a new series that provides a platform for members of the community to critically discuss governments' efforts to promote transparency, collaboration, and public participation. The series is funded by the Pratt Bequest Fund based at Rutgers Law School.
"The purpose of this roundtable was to facilitate a critical discussion on open government and consider the extent to which the way open government is understood might vary according to context," said Gregory Porumbescu, associate director of the TGC. "To this end, we invited a diverse panel of scholars to share their experiences with this popular reform trend. A central takeaway from this discussion was that while implications of open government may vary according to context, open government initiatives cannot succeed through the actions of government alone."
Alasdair Roberts, director of the School of Public Policy and professor of political science at the University of Massachusetts, moderated the discussion with panelists Mila Gasco, associate research director at the Center for Technology in Government and research associate professor of public administration at the University of Albany; Tawana Johnson, the acting chief information officer for the City of Newark; and Fredline M'Cormack-Hale, an associate professor of political science at Seton Hall University.
During their discussion, the speakers offered open government case studies from Spain and Sierra Leone, addressed the importance of transparency in mitigating societal ills, and suggested increasing transparency within nonprofits and private organizations.
"My professor taught me about open government just last week and then I saw the flyer on Instagram and so I came over," said SPAA undergraduate student Anna Agbotse. "It was really worth it because I'm very interested in how the government operates and this was a great foundation to expand my understanding."
Media