SPAA PhD Alumna RaJade Berry-James ('99) Grounds Scholarship on Principles of Diversity and Inclusion
Media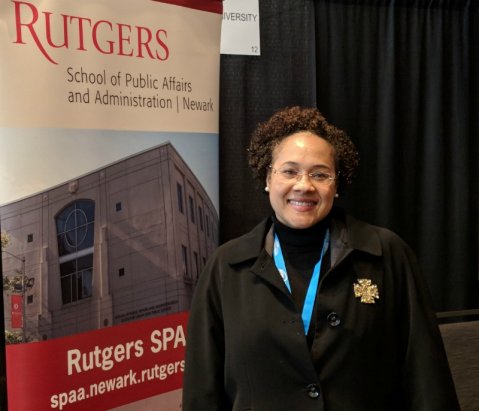 Those who encounter RaJade Berry-James (PhD'99) may find themselves with a peculiar parting gift – a silver ladle. 
Although ordinary in appearance, the ladles have a special meaning for Berry-James who has given out hundreds of ladles throughout her career as reminders of the "Parable of the Long Spoons," a story that illustrates the need for people to support each other in adverse circumstances to prosper, rather than focus on selfish pursuits.
"The moral of the story – which is really my way of life – is that in order to achieve diversity and inclusion, you must first promote diversity and inclusion for others because when you do, they promote diversity and inclusion for you," Berry-James said.
Early in her public administration career, Berry-James dreamed of becoming a full-time faculty member in public administration. More than 30 years later, she is an award-winning faculty member who currently teaches as an associate professor at North Carolina State University's School of Public and International Affairs.
Berry-James has helped secure funding and services for underserved populations, including men and women who were at-risk or living with HIV and living with substance abuse disorders. She has conducted research on establishing trust in underrepresented communities and works to ensure that she gets community input to close gaps between theory and practice.
This past fall, she won the Network of Schools of Public Policy, Affairs, and Administration's (NASPAA) Social Justice Curriculum Award, the most recent in a string of accolades that recognize a pedagogy steeped in experiential learning and focused on fostering a compassionate and culturally competent generation of public administrators.
She received the award for her MPA capstone course that has students work together on real-world issues, including the Flint water crisis, the Dakota Access Pipeline standoff, North Carolina's House Bill 2, and the Black Lives Matter movement.
"Until we effectively train graduate students how to identify and analyze public sector problems and then work together to come up with the best possible solution, we may never improve the unequal social outcomes that currently exist." Berry-James said. "In my opinion, government actors must own their role in neglecting the underserved, disconnected, disadvantaged, and disenfranchised members of our society."
Berry-James says that her classroom style emphasizes a collaborative, student-centered approach with supplementary online learning. At NC State, she created another award-winning program, DiverseLab, an online space where students experience a simulated environment to address cultural conflicts and determine how to improve public service delivery.
Her interest and expertise in social equity, program evaluation, and research methods is evidenced by a quick glance at her PhD dissertation: "Implementing Affirmative Action: The Critical Role of Affirmative Action Officers in Higher Education." Her research examined the role of affirmative action officers in higher education and determined that institutional support was important to the attainment of program goals.
Berry-James enrolled in Rutgers University-Newark's public administration doctoral program the second year after the degree program was established and continues to be a proud and supportive alumna.
"I still have every note that I took in my 'Performance Improvement in Public Administration' course in the spring of 1996 with Dr. Marc Holzer," she recalls. "As a matter of practice, I learned how to create usable knowledge by focusing on research that solves problems in our society. I have Marc, my dissertation chair, and other faculty to thank for my lessons learned."
Berry-James says that she is careful to balance the challenges of teaching with the demands of research and the promises of public service. As she looks toward the future, she intends to develop a body of literature in program evaluation that shifts the discussion on performance measurement toward improving outcomes by reducing disparities for diverse populations.