SPAA PhD Student Hanjin Mao Receives ASPA's 2021 Walter W. Mode Scholarship and Wallace O. Keene Conference Scholarship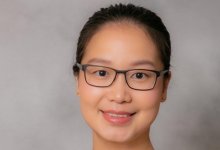 Hanjin Mao, a fourth-year doctoral student in the School of Public Affairs and Administration (SPAA) at Rutgers University–Newark, has been awarded two prestigious scholarships from the American Society for Public Administration (ASPA) for 2021: the Walter W. Mode Scholarship and the Wallace O. Keene Conference Scholarship.
The Mode Scholarship is awarded from a special ASPA endowment fund named in honor of Walter W. Mode, the 30th National President of ASPA and a public administrator with a distinguished record of public service at federal and international levels. A $1,500 scholarship is awarded for graduate study in public administration to a student who is an ASPA member and demonstrates a commitment to a public service career. The Wallace O. Keene ASPA conference scholarship is awarded to students in public administration and public policy. The scholarship intends to provide a student with financial assistance to attend the ASPA national conference and expand their knowledge of the field and their acquaintance with others in the area.
"I am truly humbled and honored to win two awards on the same day. The awards encourage my public service," said Mao.
She has been serving as the treasurer of the Section on Chinese Public Administration of ASPA since 2017, and in 2018, she served as an ASPA conference volunteer in Denver, helping at the reception desk and in the meeting rooms.
"I appreciate the serving opportunities as I naturally enjoy public service. However, most of the services are behind the scenes. With the awards, I am surprised and encouraged that my efforts are being seen," she said.
As part of the scholarships, Hanjin will be presenting two co-authored research papers at the 2021 virtual ASPA conference. The first paper, "State Governor's Crisis Communication Strategy during COVID-19: A Computation Analysis of Governor's Tweets Across 50 States" (co-authored with SPAA PhD candidate Meril Antony, Yujin Julia Jung, and Maria Wilson), examines how state governors communicate with citizens on social media during the COVID crisis and how social media input affects crisis communication effectiveness. The second paper, "The Impact of COVID-19 on Social Media Engagement: The Arts and Culture Nonprofits Perspective" (co-authored with SPAA PhD student Apoorva Gupta), compares the activities and engagement of NYC arts nonprofits' Twitter accounts during the pre-COVID time and COVID time. Mao will also serve as the moderator for the ASPA 2021 virtual panel, "Media Messages, Social Media, and Communications Management." 
Mao's research focuses on the financial benefits of information technology adoption in nonprofit organizations. She also explores how nonprofit organizations can amplify the financial benefits of IT adoption with limited resources.
"I hope my dissertation will fill in the gaps in measuring and evaluating the benefit of technology for nonprofit organizations and provide suggestions to practitioners in the nonprofit field," she said.
Mao feels SPAA has played an essential role in building her academic life. "As an international student, I see SPAA as my home and big family in the United States. I came in 2013 to pursue my MPA at SPAA, and later started my PhD journey here in 2017," she said. "The SPAA family has witnessed my growth over these eight years. I truly appreciate the support from faculty members and fellow students. They are always there whenever I need them."