SPAA Roundtable Addresses Implications of the Trump Presidency
Media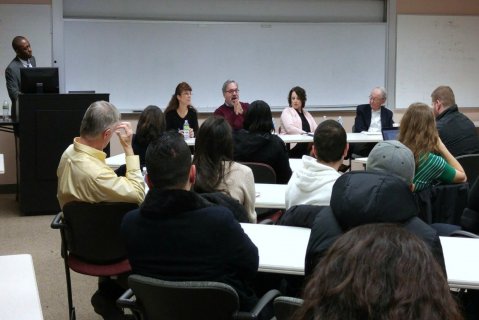 Less than an hour before Dr. Alan Sadovnik was scheduled to discuss the future of federal education policy under the Trump administration, Betsy DeVos was confirmed as the U.S. Secretary of Education.
Her confirmation was the latest in a rapidly fluctuating political cycle driven by a flurry of executive orders issued by the president and contentious confirmation hearings for his cabinet nominees. The uncertainty punctuated the remarks of Sadovnik and three other panelists who addressed the Trump administration's policies at a roundtable discussion hosted by the School of Public Affairs and Administration (SPAA) on Feb. 7, 2017.
The event, titled "Whither Public Policy? Implications of the Trump Presidency," focused on the future of public administration and policy under the new administration with regard to immigration, the federal court system, education, and the Affordable Care Act (ACA).
The discussion, moderated by Dante Arnwine, the president of SPAA's Public Administration Graduate Association (PAGA), included remarks by four SPAA professors: Sadovnik, Dr. Ariane Chebel d'Appollonia (addressing immigration), Dr. Stephanie Newbold (addressing the court system), and Dr. Frank Thompson (addressing the Affordable Care Act, also known as "Obamacare").
"Without immigration, without refugees, we have no Ebay, no Google, no WhatsApp, no Intel, no Apple and so on," Chebel d'Appollonia stated, in reference to restrictive immigration policies imposed by the White House that include a travel ban on seven predominantly Muslim countries.
Chebel d'Appllonia asserted that while the travel ban targets those outside of the United States, one of the greatest threats of terrorism to the nation is domestic, which includes self-radicalized jihadists, but also encompasses hate groups such as white supremacists.
She continued to say that she is not advocating for open borders and a lack of screening, but is instead arguing that national security requires a multi-faceted approach that includes improving relationships between immigration services and intelligence agencies - both domestic and abroad.
Each speaker had 10 minutes to address his or her topic of expertise with time for questions from the audience of approximately 75 attendees.
Questions posed to the panel included queries on enforcement of federal laws, the current federal hiring freeze, and domestic terrorism.
The speakers covered news-grabbing headlines such as the possible repeal of the Affordable Care Act as well as lesser-known issues such as the state of the federal court system, which currently has the largest number of open judgeships in American history.
Newbold said these vacancies are straining the court system through rising caseloads and delayed proceedings.
"…if we have any business to do at the district court level or the court of appeals level, [vacancies are] creating an unnecessary hardship and increased cost because you have to have your lawyers present for longer amounts of time," Newbold said. "It creates a system where not only are the federal courts not as responsive and responsible as they need to be, but they also can't be as efficient and effective as they need to be."
Sadovnik discussed DeVos's championing of charter schools, and Trump's proposed reallocation of Title 1 funds currently directed toward public schools under the Elementary and Secondary Education Act, toward charter schools.   
"And we don't know what, if anything, will replace those Title 1 funds, which are often used for school lunches and other things, so that's a real issue," Sadovnik said.
Sadovnik continued by suggesting that DeVos – a staunch supporter of religious education – may also divert funds toward parochial schools in support of her beliefs. 
The final topic was the Affordable Care Act, a statute that may be repealed by a Republican-controlled Congress.
"There are 20 million more insured Americans now, the rate of uninsurance is the lowest it's been due to the regulation, and the quality of insurance available on the market is consistently higher than it was prior to the law," Thompson said.
Thompson said that a blanket repeal of the ACA would result in even higher insurance premiums as well as a loss of insurance for millions, which would make a replacement healthcare plan necessary. Thompson said there are several Republican proposals, but currently no agreement among Republicans, in addition to a lack of support from Democrats. He suggested that the circumstances could result in gridlock, or the passage of a law that would likely weaken insurance regulation, reduce health benefits, and reduce Medicaid funding.
Several attendees said that the topics were of particular importance to them because of personal experiences or educational backgrounds.
"I'm interested in immigration because I have dual citizenship in Jamaica as well as America, and am interested in the court applications because my associate degree was in paralegal studies," said Garfield Simpson (SPAA '18).
Samira Nabi (Newark College of Arts and Sciences '17) said that as a student, she was primarily interested in immigration policy and education, especially in terms of learning about the direction of student loan policies.
"…there's not much we know outside of social media, and I feel like it was really informative, and I learned a lot. We should have more programs like that around school," Nabi said.
The event was the second in a series of SPAA roundtables on current events that was initiated last semester with a discussion on "Violence, Race and Implications for Trust in Government." For video highlights of the February 7 roundtable on the Trump administration, click here.