SPAA Service Learning Internship Session Serves as Community Builder
Media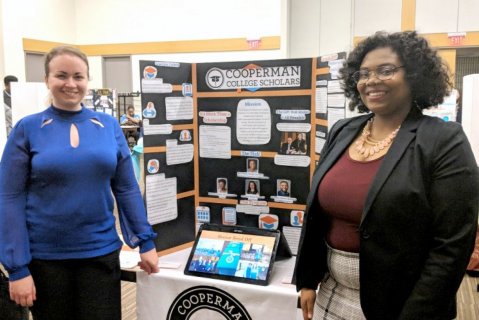 In April 2018, more than 30 students displayed the work they've done at their internships for the "Service Learning Internship Seminar II" course at the School of Public Affairs and Administration (SPAA).
The class, taught by Adjunct Professor Michael Dillard, was a poster presentation session that served as much more than the students' final project. It also provided a unique networking opportunity with the internship supervisors and institutional leaders who were in attendance.
"Former students from my classes also attended the event," said Dillard. "This strategy was effective because they were able to connect with executives who then become their role models. Additionally, SPAA alumni had the opportunity to learn about job opportunities and were able to distribute their resumes and make important contacts."
Joined by Dean Charles Menifield, Dillard circulated around the room listening to presentations on internships at various public sector organizations, including Rutgers Cancer Institute of New Jersey, the Drug Enforcement Administration, and the American Civil Liberties Union.
"I'm working on a project that is geared toward high school students transitioning into college and I'm doing workshops at different colleges with our partner schools," said Daisha Carson (SPAA'19). "Those opportunities are why I chose to be with Cooperman and really engage with the community."
Carson interned at Cooperman College Scholars and proved to be such a valuable asset that the program recently hired her as a paid employee.
"We interviewed her and immediately thought she was a great fit," said Sarah Whittemore Honan, director of operations at Cooperman College Scholars. "She had strong experiences and background and was looking for a lot of the skills that our internship could offer to help her grow. It was a win-win – it was great for us to be able to keep her and for her to get that experience."
According to Sharon Stroye, director of community engagement at SPAA, the internship presentations are an integral part of SPAA's community engagement strategic plan because it showcases students' applications of their coursework, while fostering a positive relationship with the internship sites.
"Our students are doing exceptional work in the community and this kind of initiative really highlights how valuable SPAA is as a resource that the nonprofit and public administration community needs," Stroye said.