SPAA Student Nicole Nave's College Career Grounded in Debate
Media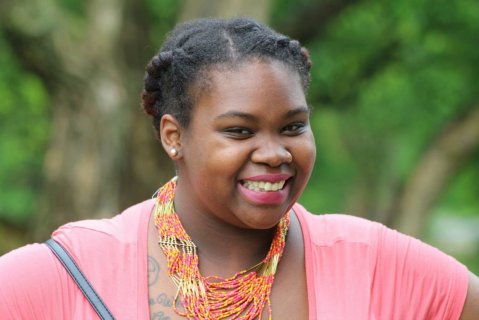 Nicole Nave burst into tears during her first debate as a high-school freshman because of the anxiety she felt while speaking. 
"When I first started debate, I was really awful," Nave said.
Eight years later, the Rutgers University–Newark junior (SPAA '19) is one half of a nationally ranked debate pair (with teammate Devane Murphy), and has more awards than she can remember – one from every college tournament she's attended.
Her life revolves around debating. She spends her days preparing arguments, practicing several hours a week with fellow members of the RU-N Debate Team, and traveling throughout the country for tournaments.
Even when she's not competing, Nave supports budding debaters who share her passion for the sport. Currently, she juggles two coaching positions at North Star Academy Charter School of Newark and Newark Debate Academy.
"The children watch my YouTube videos, they quote me, and it makes me feel really cool, even though I'm not really that cool," she laughed. "So it's interesting having people depend on you and look up to you."
She credits debate with shaping her growth academically, socially, and professionally.
The self-proclaimed introvert says that debate also opened an outlet for interaction and relationship-building that has led to numerous networking opportunities.  
In August 2016, Nave met Mayor Baraka at a debate team reception and Baraka mentioned that he needed a speechwriter. Their exchange led to Nave's current position as the lead communications intern at Newark City Hall.
"Debate has given me the necessary skills to think critically, write papers, and comprehend things a little faster," Nave said.
Nave's initial interest in debate was sparked by her older brother, Lee Nave Jr., a constant role model and cheerleader. She sought to follow in her brother's footsteps when she began debating in high school and found it fulfilling, she said.
After overcoming her initial anxiety and inexperience in high school debate competitions, Nave established herself as a formidable opponent and wanted to pursue a college education while continuing to debate. Her ambition led her to leave her Ferguson, Missouri, home and enroll at Rutgers University–Newark to join its award-winning debate team.
Despite her successes, Nave says that she often finds the lack of diversity in debate challenging, and occasionally, dispiriting. Her frustration prompted her to promote inclusivity in debate through organizations like the Women's Debate Institute (WDI), an organization that works to empower women to succeed as debaters. Nave currently serves on WDI's Board of Directors.
"Nicole represents the best and brightest of students to ever make their way through the Debate program here at Rutgers-Newark," said Debate Team Director Chris Kozak.  "Her work with local Newark students and at City Hall sets an example for all students that are part of the legacy of debate at Rutgers-Newark."
Nave is expected to graduate in 2019 and aspires to continue her work with children as a school administrator.