126 Students Graduate from the 2020 Cohort of the State of New Jersey Certified Public Manager (CPM) Program
Media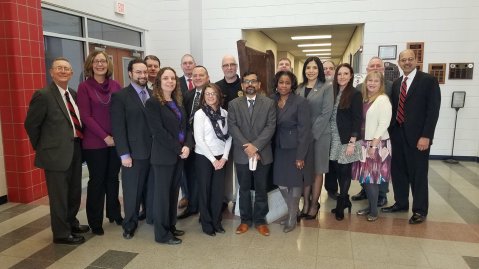 The New Jersey Certified Public Manager (CPM) Program, administered by the New Jersey Civil Service Commission (CSC) and delivered by Rutgers University–Newark's School of Public Affairs and Administration (SPAA), had 126 students graduate this year. Even amidst the COVID-19 pandemic, graduates surpassed expectations in their "Commitment to Public Service," which was also the theme for this year's cohort. From first responders, to municipal leaders, county managers, and state government staff, all graduates had to face unprecedented journeys.
"Despite these challenges, my fellow graduates, you have persevered and completed this rigorous program with flying colors," said Deirdré L. Webster Cobb, Esq., chair/chief executive officer of the State of New Jersey Civil Service Commission. "I applaud you for all the hard work you have done and the sacrifices you have made. You set a goal and stuck to it, no matter the circumstances. In the face of challenges, you had to adjust, which no one who has previously completed this program has ever seen before. You were able to do this because of your commitment to public service."
While a traditional ceremony could not be conducted, official remarks and salutations were part of the 2020 CPM Graduation Program. School of Public Affairs and Administration Dean Charles Menifield called upon the graduates to "use this milestone as a stepping stone for those coming afterward as a beacon of hope." He said, "First if you have not done so, create a vision for yourself along with a plan for achieving that vision. Second, we live in a world where 'me first' is the dominant attitude. However, if we are to be successful, we need those around us to be successful. So, please consider others before self. Third, trust and respect your subordinates. Fourth, you will be called upon to make some tough decisions throughout your career. So, make the hard decisions and learn from any mistakes that you make along the way. Last, set high ethical standards and expectations and live up to them yourself." 
LaVida Stalsworth, CPM director for the State of NJ, congratulated the 2020 graduates by remarking that "You are now a Certified Public Manager, and I trust you will continue to demonstrate the unique qualities of dedicated and noble public servants." Jane Sharp, CPM director for Rutgers SPAA, highlighted the collaboration between SPAA and the Civil Service Commission and the dedication of the faculty who bring the curriculum to life.
This year's George C. Askew Award was presented to Chantannette C. Ketelaar. She is a sergeant at the Ocean County Department of Corrections Custody Division. Her capstone, "Corrections Crisis Response Team, CCRT," focused on developing a support team to proactively provide services and resources to officers at risk or in crisis. Ketelaar's project demonstrated the CPM principles and aligns with the current Attorney General's Resiliency Plan. Her project provided comprehensive details, including research, surveys, results, and a clear plan with short-term and long-term goals for implementing the program. 
The George C. Askew Award was created by the American Academy of Certified Public Managers (AACPM) to nationally recognize the efforts of an individuals who have demonstrated exemplary work in the completion of their Capstone project. The award is presented for the utilization of management practices exemplifying the philosophy of AACPM in the completion of an exceptional curriculum projects.
For more information on the CPM program, visit:
spaa.newark.rutgers.edu/cpm