Certified Public Manager (CPM) Program Graduates Largest Class To Date in 2017
Media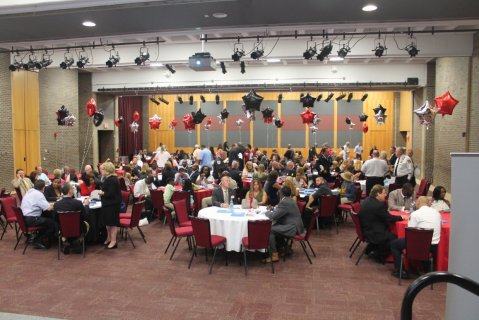 The New Jersey Certified Public Manager (CPM) Program at Rutgers School of Public Affairs and Administration (SPAA) graduated its largest class to date on Aug. 11, 2017, when 123 students received their certificates.
 "I'm honored to have worked with dedicated public employees from federal, state, county, and municipal agencies. These individuals completed 300 hours of professional development over 10 months, while working full time in demanding jobs and taking care of their families," said Jane Sharp, Rutgers Director of the CPM program. "Each one completed a capstone project to benefit their organization and exemplify what it means to be a noble public servant."
The graduation ceremony marked the end of 21 courses designed to instill the necessary skills for participants to advance within their organizations by becoming stronger leaders, more strategic thinkers, and more knowledgeable and experienced managers.
Speakers included Deputy CEO of the State of New Jersey Civil Service Commission Grace Kelly, SPAA Interim Dean Gregg Van Ryzin, Retired Verona Police Chief and SPAA alumnus Mitchell Stern, and New Jersey Chapter of the American Society for Public Administration President Patrick Brannigan.
LaVida Stalsworth of the Civil Service Commission presented one of the graduates, EMS Capt. Chrissy Oatman, with the Askew Award in recognition of her exceptional capstone project. Oatman's project, "Facing a New Threat: A World of Shifting Paradigms," outlines a system in which police officers, firefighters, and EMTs participate in joint training for active shooter and high-risk situations in order to provide a more rapid response to victims. Oatman, who works at the Cherry Hill Fire Department, has used this system at her department for three years and expanded the training to Camden County for her capstone.
For more information on the CPM program, visit spaa.newark.rutgers.edu/cpm