CPM Graduate Dean Kazinci Awarded 2019 NJMMA Outstanding Manager Award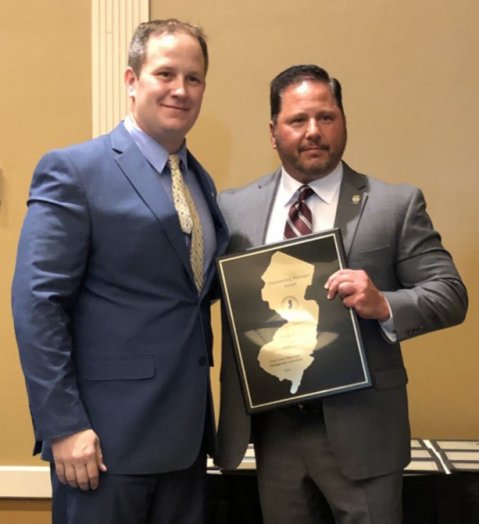 Dean Kazinci, Teaneck Township Manager and graduate of the New Jersey Certified Public Manager (CPM) Program at Rutgers SPAA, was awarded the 2019 Outstanding Manager Award by the New Jersey Municipal Management Association (NJMMA) during their annual conference in November. The award recognizes an administrator or manager who has successfully implemented a specific exemplary project or program within the last three years.
"I am humbled by the recognition and certain there were other hard working and dedicated managers deserving of the award," said Kazinci. "The support and resources provided by the Teaneck Council allowed me to focus on, address, and implement new safety measures that serve to protect the community in the event of a critical railroad incident. Many thanks to Dr. Domenick R. Varricchio, Rutgers School of Public Affairs and Administration, and the entire CPM team for their guidance and support on my capstone project."
Kazinci was nominated by Varricchio, an instructor in the CPM program and professor at Seton Hall University, for his CPM capstone project, "Municipal Preparedness for a Bakken Oil Critical Railroad Incident." Kazinci's project evaluated the readiness, preparedness, and resourcefulness of the Township of Teaneck as a municipality to handle a critical railroad incident involving the transportation of one to three million gallons of Bakken Crude Oil weekly on a three-mile stretch of the CSX River Line. He researched emergency procedures for critical railroad incidents, surveyed local first responders, interviewed senior staff, created a 2,500-foot buffer map to identify staging areas and evacuation routes, and developed shared services agreements with surrounding communities. 
"Dean Kazinci's capstone project not only received due recognition, but this critical information will be shared among the many municipalities potentially impacted by such an incident," said Varricchio. "We all acknowledge Dean's prestigious award and wish him a continued successful career in public service."