State of New Jersey Certified Public Manager (CPM) Program Graduates 120 Students at 2019 Ceremony
Media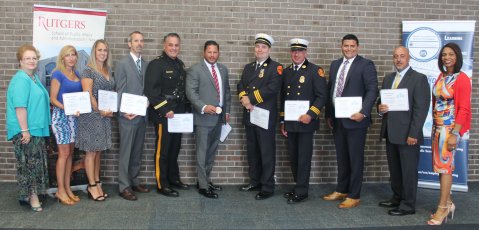 The New Jersey Certified Public Manager (CPM) Program at Rutgers School of Public Affairs and Administration (SPAA) graduated 120 students at the program's annual ceremony on Aug. 16, 2019.
CPM 2019 Media Gallery
 
"I'm honored to have worked with dedicated public employees from federal, state, county, and municipal agencies. These individuals completed 300 hours of professional development over 10 months, while working full-time in demanding jobs and taking care of their families," said Rutgers Director of the CPM Program Jane Sharp. "Each one completed a capstone project to benefit their organization and exemplifies what it means to be a noble public servant."
The graduation ceremony marked the end of 21 courses designed to instill the necessary skills for participants to advance within their organizations by becoming stronger leaders, more strategic thinkers, and more knowledgeable and experienced managers.
Speakers included Chair and Chief Executive Officer of the New Jersey Civil Service Commission Deirdre L. Webster Cobb; SPAA Dean Charles Menifield; Retired Judge John Futey; Assistant Director of the Bloustein Local Government Research Center Marc Pfeiffer; and Health Officer and Director of the Passaic County Department of Health Dr. Charlene Gungil.
LaVida Stalsworth of the Civil Service Commission presented one of the graduates, Teaneck Township Manager Dean Kazinci, with the Askew Award in recognition of his exceptional capstone project, "Municipal Preparedness for a Bakken Oil Critical Railroad Incident." Roughly 30 trains, each carrying between one to three million gallons of Bakken crude oil, pass through a densely populated section Teaneck Township each week. Mr. Kazinci's Capstone project evaluated the readiness, preparedness, and resourcefulness of the Township of Teaneck as a municipality to handle a critical railroad incident involving the transportation of Bakken Crude Oil on the three-mile stretch of the CSX River Line.
The Askew Award was created by the American Academy of Certified Public Managers (AACPM). The award itself was named after George C. Askew who alphabetically was the first graduate in the initial Certified Public Manager Program. The purpose of the award is to acknowledge and "nationally" recognize the efforts of those who have demonstrated exemplary work in the completion of their CPM projects, which is a vital component of every state's program. Recipients of the award not only receive recognition at the state level, but at the national level as well. The AACPM publishes information about the award recipients and their projects in their newsletter and on their website. Information about Askew Award winners is also provided to the National Certified Public Manager Consortium.
For more information on the CPM program, visit spaa.newark.rutgers.edu/cpm.