Rutgers SPAA Celebrates 2019 Graduates
More than 200 Degrees Conferred
Media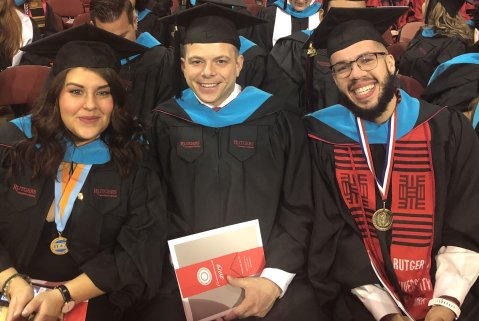 On Wednesday, May 22, more than 200 School of Public Affairs and Administration (SPAA) graduates received their degrees during Rutgers University–Newark's (RU-N) commencement ceremony at the Prudential Center in Newark, NJ. Assistant Professor Jiahuan Lu carried the gonfalon for SPAA and the commencement address was delivered by nationally renowned scholar, teacher, and activist Dorothy E. Roberts, who emphasized the importance of imagination  and always acting as if it were possible to radically transform the world.
SPAA 2019 Graduate Profiles:
 
Prior to commencement, SPAA recognized its graduates at a Pi Alpha Alpha Induction Ceremony followed by a Graduation Celebration on May 16, and a PhD Hooding Ceremony on May 20 at the Paul Robeson Campus Center.
A total of 37 students were inducted into Pi Alpha Alpha, the national honor society for public administration, and the students and their guests joined SPAA faculty and staff in toasting the new inductees. Celia M. King, CEO of Leadership Newark Inc., was inducted as an honorary Pi Alpha Alpha member.
The SPAA Graduation Celebration that followed recognized all of SPAA's graduates in addition to the 2019 SPAA Award Winners:
Outstanding BA Student: Sueann Gravesande (BA'19)
Outstanding MPA Student: Randi I. Malman (MPA'19)
Outstanding PhD Student: Dr. Chengxin Xu (PhD'19)
E. Drexel Godfrey Award: Dorothy Thompson Wilkes (MPA'19)
Dean's Public Service Award: Joseph Maya-Rodriguez (MPA'19) and Francisco Vargas (MPA'19)
Student Engagement Award: Diana P. Negron (MPA' 19)
Graduation 2019 Media Galleries:
 
The celebration's student speaker, Randi I. Malman (MPA'19), discussed the importance of public service leaders as change agents.
"There is a renewed sense of civic engagement that has taken shape, and as leaders in the field of public administration, it will be up to us to turn the calls to action into meaningful change. For some of us, making that change may be through elected office for others it may mean working in public policy, community organizing, or advocacy. But whether you are at the forefront of a major social movement or working behind the scenes, always know that this work matters. This work does make a difference," Malman said.