Rutgers SPAA Hosts 18th Annual Social Equity Leadership Conference (SELC)
Experts Share Ways to Address Social Justice Issues at #SELC2019
The School of Public Affairs and Administration (SPAA) hosted the 18th annual Social Equity Leadership Conference (SELC) on June 5-7, 2019 at Rutgers University–Newark, co-sponsoring the conference with the National Academy of Public Administration (NAPA). The conference – with a theme of "Achieving Social Equality in Turbulent Times: A Grand Public Administration Challenge" – brought together more than 150 scholars and practitioners to share their expertise on the best ways to address social justice issues, including racial and gender disparities in education, health, housing, and treatment in the criminal justice system.
#SELC2019 Media Gallery
 
On Wednesday, June 5, NAPA President Terry Gerton, SPAA Dean Charles Menifield, and Newark City Council President Mildred Crump opened the conference with welcoming remarks. The Honorable Sheila Y. Oliver, New Jersey Lieutenant Governor, then delivered the conference's keynote address, discussing the importance of social justice throughout her career. Oliver was introduced by Anna Agbotse, a SPAA undergraduate student who has been recognized nationally and internationally for her social justice efforts.
Chancellor Nancy Cantor delivered welcoming remarks at the plenary luncheon on Thursday, June 6, where she introduced Rene Deida, the relationship manager for Prudential Retirement, Annuities, Human Resources and Global Business and Technology Solutions, to discuss what Prudential has done to promote social equity internally and outside of the organization, especially in Newark.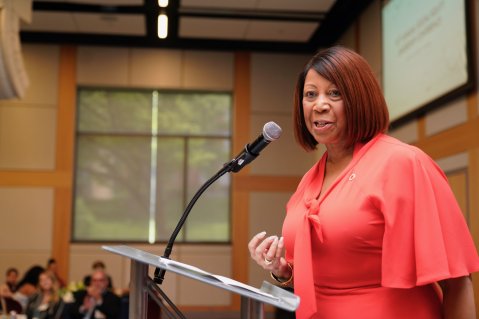 Two plenary panel sessions were also held on June 6. The first, "Social Equity in Public Administration: 50 Years Passing and 50 Years Forward," was moderated by Gary Glickman, chairman of NAPA's Social Equity Standing Panel. Panelists included social equity experts Brandi Blessett, associate professor and director of the MPA program at the University of Cincinnati; Alan Curtis, president and CEO of the Eisenhower Foundation; Susan Gooden, NAPA fellow and interim dean and professor at the L. Douglas Wilder School of Government and Public Affairs at Virginia Commonwealth University; and Samuel Myers, NAPA fellow and professor and director of the Roy Wilkens Center for Human Relations and Social Justice at the Hubert Humphrey School of Public Affairs at the University of Minnesota.
The second session, "Newark: A City Evolving and Moving Forward," was moderated by Diane Hill, assistant chancellor, Office of University and Community Partnerships at Rutgers University–Newark. Panelists, all experts on the City of Newark with extensive experience working in the city, were Richard Cammarieri, director of special projects for the New Community Corporation (NCC); Ryan Haygood, president and CEO of the New Jersey Institute for Social Justice; Raymond Ocasio, executive director of La Casa de Don Pedro, Inc.; David Troutt, distinguished professor of law and director of the Rutgers Center on Law, Inequality and Metropolitan Equity (CLIME); and Junius W. Williams, professor emeritus at RU-N and the Official Historian of the City of Newark.
Over the three days, SELC 2019 hosted a total of 24 concurrent panel sessions that provided an in-depth look at the most critical questions related to social justice today, including racial and gender disparities in education, health, equitable growth, affordable housing, and treatment in the criminal justice system. Sessions continued themes from earlier SELC conferences, but provided a unique perspective, such as the panel on "Slavery and its Aftermath," moderated by Dalton Miller-Jones, professor emeritus of Portland State University. Panel members were Richard Geffken, from the Shrewsbury Historical Society; Judy-Lynne Peters and Ned Benton from John Jay College of the City University of New York; and Stephanie Harris, executive director of the New Jersey Amistad Commission.
The plenary luncheon speaker on Friday, June 7, was Valerie Lemmie, a NAPA fellow, who serves as the director of exploratory research for the Kettering Foundation. The conference concluded with a call to action by Blue Wooldridge, NAPA fellow and professor emeritus of the L. Douglas Wilder School of Government and Public Affairs at VCU, where he emphasized that we should be concerned about social inequities for a number of reasons including that "it renders government vulnerable to special interests seeking to maximize short-term interests…" and "lowers trust in government."
NAPA is a congressionally chartered, non-partisan, nonprofit organization of more than 850 elected Fellows including former cabinet officers, members of congress, governors, mayors, and state legislators, as well as prominent scholars, business executives, and public administration scholars. Four SPAA faculty are NAPA Fellows: Dean Charles Menifield; Board of Governors Distinguished Professors Norma Riccucci and Frank Thompson; and Distinguished Research Fellow Marilyn Rubin. 
Established by NAPA, the Social Equity Leadership Conference is focused on advancing the knowledge and understanding of applied and theoretical research toward the promotion of social equity in governance. Initiated by the Standing Panel on Social Equity in Governance – a committee of NAPA – these annual conferences focus on issues of fairness, justice, and equity in a variety of public contexts, including but not limited to education, policing, welfare, housing, and transportation.