Rutgers SPAA Launches Student Ambassador Program to Provide Leadership and Development Opportunities
#SPAAisPublicService #WhereServiceMeetsLeadership #RutgersSPAA
Media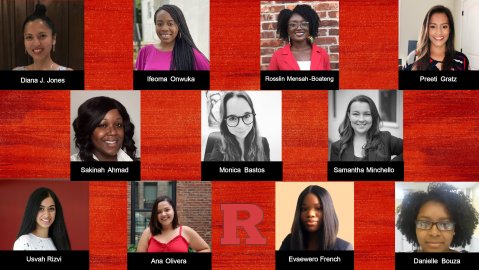 Rutgers School of Public Affairs and Administration has launched the SPAA Student Ambassador Program to provide students with hands-on leadership opportunities and professional development activities that will equip them with the knowledge and skills to lead public and nonprofit organizations successfully. The student ambassadors will represent the school in various activities, including admissions, public engagement, and marketing initiatives. The program brings each student's unique perspective, skill, and passion for collectively working together to represent SPAA's diversity, competency, knowledge, service, and ethical practice values. 
"This program is an opportunity for our awesome students to enhance their leadership skills and expand their networking opportunities," said Sharon Stroye, SPAA's director of public engagement, who helped lead the program into existence. "The participants will design student-led initiatives around recruiting, marketing, fundraising, and community building."
The inaugural cohort of SPAA Ambassadors consists of 11 students currently enrolled in undergraduate and graduate degrees across traditional and online programs in SPAA who are earning their BA, Master of Public Administration (MPA), and Executive MPA (EMPA).
The 2020-2021 cohort includes:
Sakinah Ahmad, EMPA student
Monica Bastos, MPA student 
Danielle Bouza, MPA student 
Evaewero French, MPA student 
Preeti Gratz, Online MPA student 
Diana J. Jones, MPA student 
Rosslin Mensah-Boateng, MPA student 
Samantha Minchello, EMPA student 
Ana Olivera, BA student
Ifeoma Onwuka, Online MPA student 
Usvah Rizvi, BA student
"The School of Public Affairs and Administration is ecstatic to welcome our inaugural class of SPAA Ambassadors. Students are really at the core of many of our functions and they offer a unique perspective on recruitment, fundraising, and engagement. I do hope that they are as excited as we are to have them actively participate in these activities," said SPAA Dean Charles Menifield. 
The ambassadors have divided themselves into four committees – Community Building, Recruiting and Marketing, Fundraising, and Focus Groups – to help SPAA expand its reach. As the students work together to represent and advocate for SPAA goals, the program will provide them with varied professional development training to aid in their own career goals and train them to be the next generation of public service leaders.
"I was interested in becoming a SPAA Ambassador because it is an opportunity that is mutually beneficial to both myself and the greater SPAA community," said Samantha Minchello, 2020-2021 SPAA Ambassador. "Not only does it enhance my leadership skills, build my network, and allow me to participate in professional development opportunities, but it gives me the chance to give back to the SPAA community by giving the students a seat at the table with the administration. As part of the program, we act as a liaison between students and the different departments and resources they could take advantage of throughout the semester."
Stroye is extremely impressed with the inaugural cohort of the SPAA Ambassadors. "The individuals selected have already raised the bar and surpassed our expectations," she said. "We are excited about the launching of this program and look forward to the future of the SPAA Ambassador Program."
For more information about the SPAA Student Ambassador Program, visit:
spaa.newark.rutgers.edu/spaa-student-ambassador-program
To meet the inaugural cohort of SPAA Ambassadors, visit:
spaa.newark.rutgers.edu/2020-2021-spaa-ambassadors